gx 2c
Creatives can now build environments with more particles, effects, and richer scenes at higher resolutions, and smoother frame-rates than ever before.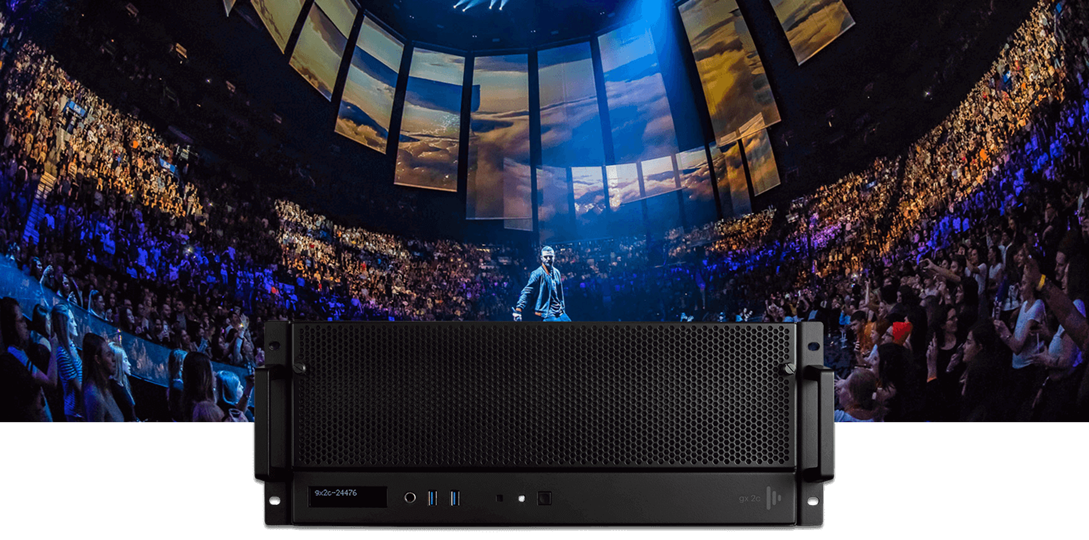 Faster content
The gx 2c features the most powerful workstation GPU available, capable of 38,433 Notchmarks.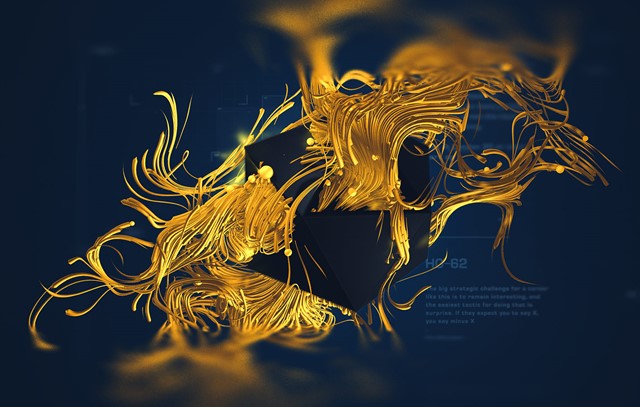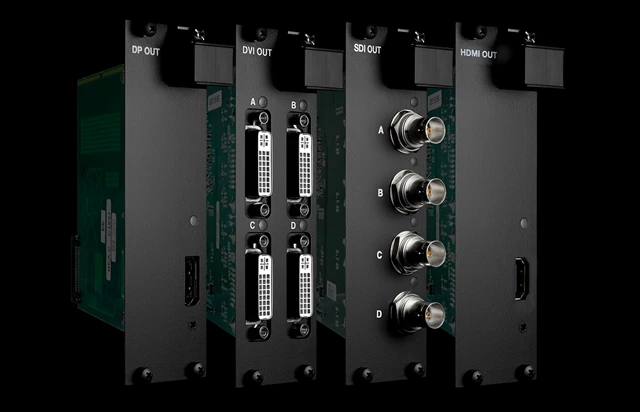 storage for longer & higher quality content

10-bit & HDR support

future proofs the server investment
More capture
8x 3G-SDI inputs unlocks new workflows for broadcast and live production with the ability to use more live feeds than ever before.
Scale and fit
Go beyond the power of a single server solution into distributed systems, with many servers working as one to create a seamless immersive experience.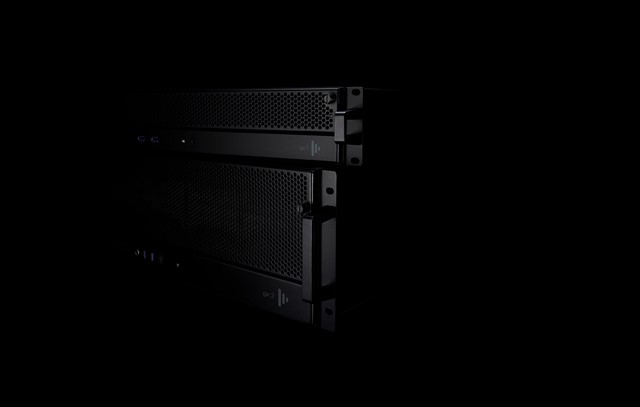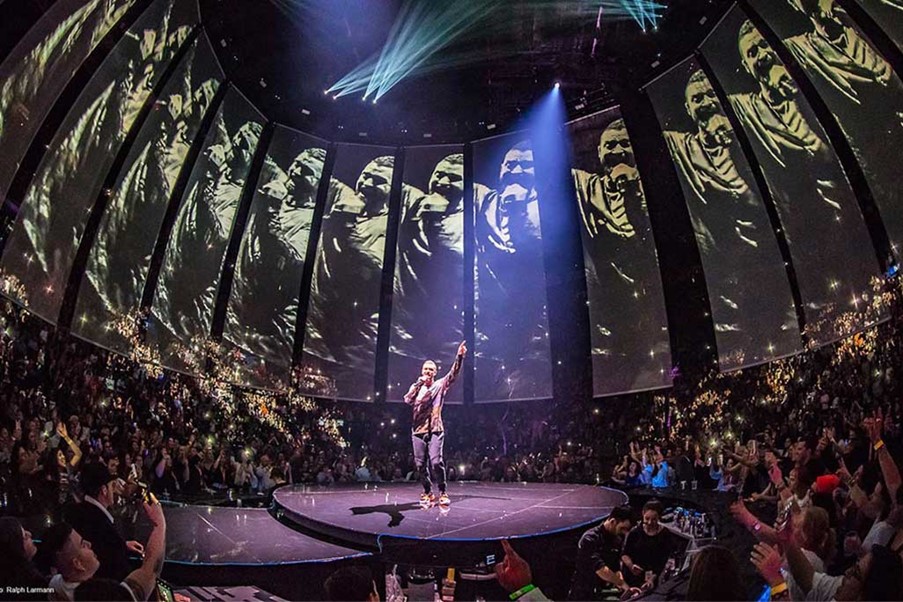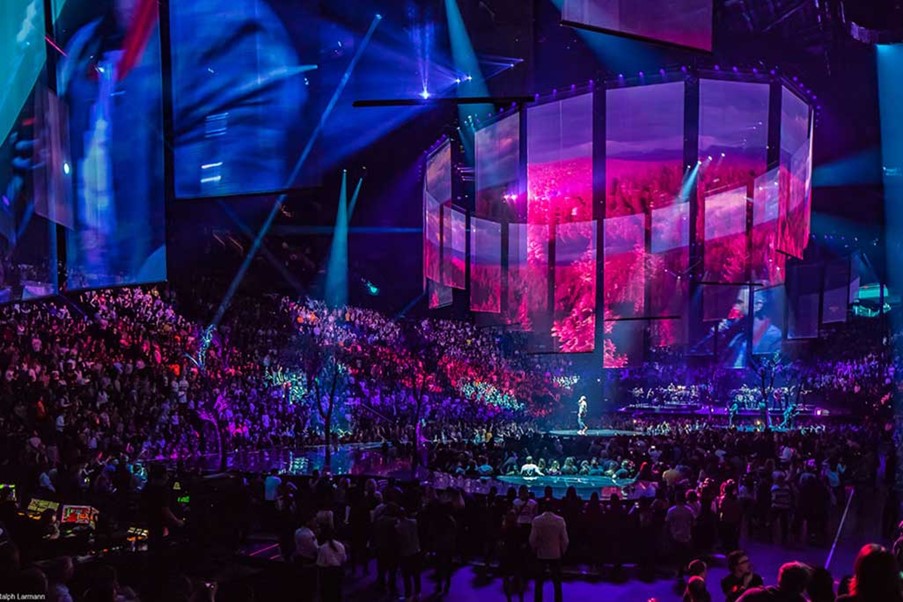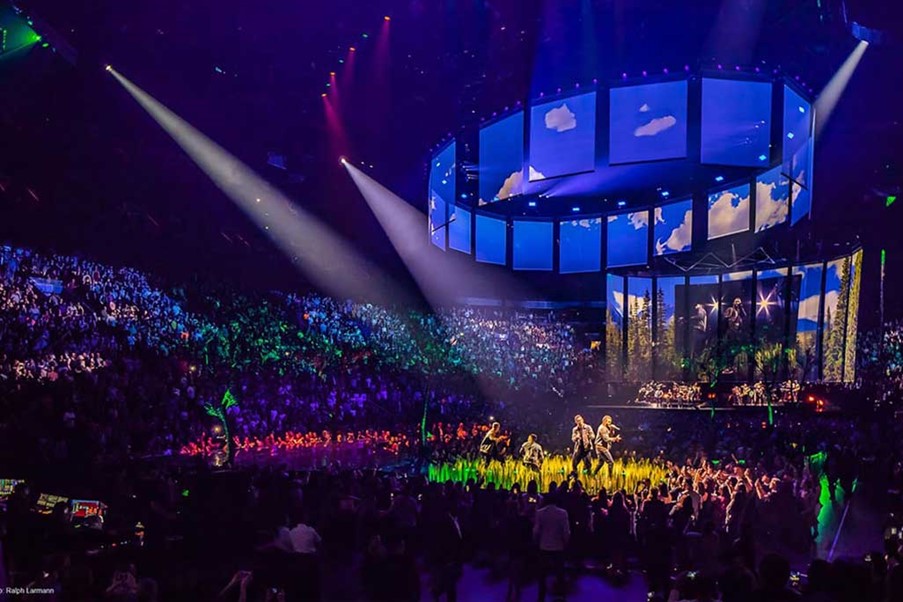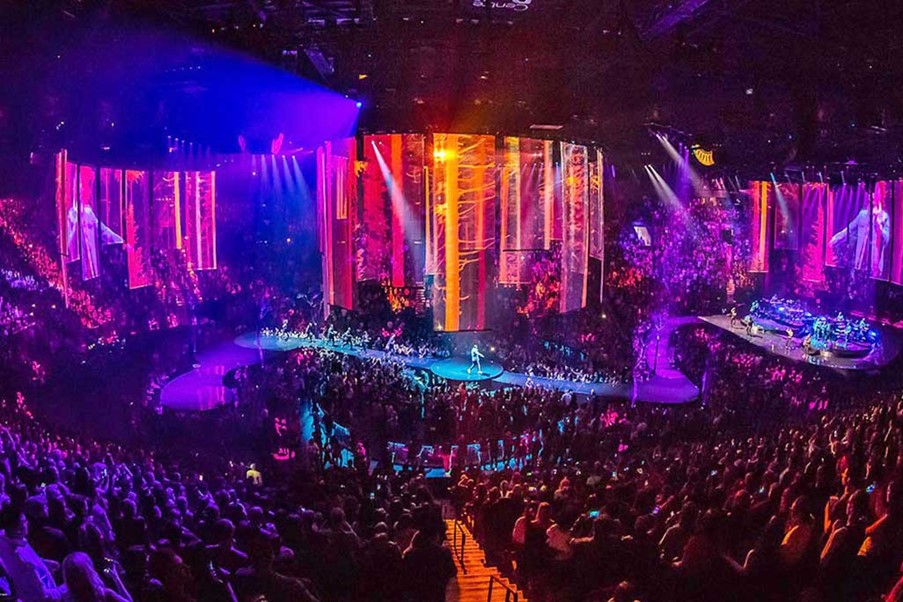 Next generation playback with 2x 4K outputs, which are also 10-bit capable of pushing 38,433 Notchmarks, the gx 2c provides a large step up in terms of capabilities to enable the latest in xR workflows.
Capture up to two 4K sources at 60fps (2160p60); or up to eight 3G-SDI sources at 60fps (1080p60).
The inputs are also 10-bit capable, with the same low latency as existing disguise pro and gx range machines.
4TB NVMe drive fitted freeing creatives to work with higher quality codecs, including support for NotchLC.
The gx 2c supports 10-bit content playback and 10-bit displays. As the industry adopts 10-bit display products, 10-bit content pipelines and more dynamic shows, the gx 2c has been future proofed for the shows of tomorrow.
Supports HDR content and provides a means of applying colour profiles. Consisting of a colour space and a gamma curve, users can set a colour profile to their content, or capture live video from HDR cameras and disguise performs a real-time conversion to the HDR display device - even changing between HDR standards.
The workstation grade GPUs in all gx range machines allows users to genlock machines to form a bigger media server system with many servers working as one.
2x 10GbE network ports enabling fast content transfer.
The gx 2c ships with two HDMI 2.0 VFC output cards by default to drive 2x 4K outputs from one machine.
The swappable VFC technology future proofs the investment as users can output DisplayPort, Quad-DVI, Quad-SDI, or HDMI by fitting the optional VFC cards, as well as mixing signal formats and resolution types in the same project.
Technical specifications
System Connectivity - I/O
Video Output
1x Displayport 1.2 (GUI)
2x VFC Output Slots
Ships standard with HDMI 2.0 VFC cards (4096 x 2160 max) Different Video Format Conversion Cards also available, refer to VFC specifications
Video Input
8x 3G-SDI (HD-BNC connectors, 2x 4K@60 max)
Video Sync
BNC Genlock
Media File Specifications
Video Playback
.mov (anim, pjpg, DXV, Hap, Hap Q)
Still Image Format
.png, .jpeg, .bmp, .tiff, .tga
3D Mesh Format
.obj
Audio File Format
.mp3, .wav (44.1kHz, 16-bit, stereo)
Audio
RME Professional
Analogue Audio
2x Balanced XLR Output
2x Balanced XLR Input
1x ¼" Headphones Jack
Digital Audio
ADAT/SPDIF I/O
MIDI
1x In, 1x Out
Physical Specifications
Mounting System
4U 19" rack mount
Unit Dimensions
W: 445mm (17.52'')
H: 178mm (7'')
D: 593mm (23.35'')
Unit Weight
EST 16.8kg
Unit & Rack Handles
621mm (24.45'')
Environmental Tolerances
Temperature: 5-35°C (40°-95°F)
Humidity: 5%-95% (non-condensing)
Altitude: 0-8850 ft (0-2700m)
Hardware Specifications
CPU
Intel® Xeon® Quad-Core 3.7Ghz
Memory
64GB DDR4 RAM
Storage
4TB SSD
Network
General Network: 1x Gigabit LAN
Artnet: 1x Gigabit LAN
Media Network: 2x 10 Gb/sec LAN
Voltage
100-240V, 50-60Hz
Power Consumption
TBD
| | | |
| --- | --- | --- |
| Software Features | Operating System | Windows Enterprise SAC |
Bundled Software
disguise Proprietary
Full Production Suite
3rd Party
Notch Playback License (2 years)
Support, Updates and Warranties
License subscription package includes
- Free software upgrades for the life of the machine
- 2 year return to base hardware warranty (plus options to extend warranty length)
gx 2c specifications sheet