vx 2
The vx 2 is our pro range's new scalable powerhouse. Built on the industry-leading vx 4 chassis, the vx 2 gives you the freedom to build out your technical capacity depending on your production.
More power
More flexibility
Our new vx 2 machine compliments the vx 4 and addresses your scale-up needs.

With two VFC slots and 12G capture capabilities, the vx 2 goes toe-to-toe with the vx 4 in terms of capabilities but with fewer inputs and outputs.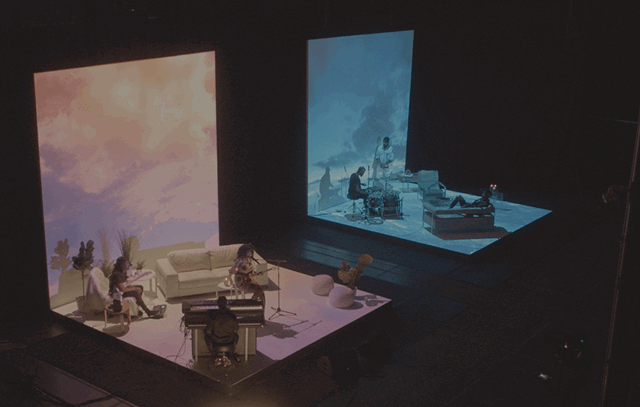 Lossless video @ 60fps

Fast media transfer
Futureproofing existing workflows
Enjoy more creative freedom by scaling up your real-time content. With an all-new 12G capable capture card, the vx 2 can capture two 4K inputs via Quad 4K or single 12G SDI inputs.
Built to last
Building on the strength of the vx4, the vx 2 is robust in design. Incorporating improved cross-bracing and isolated core components it also features a hi-res OLED front panel giving users detailed system information.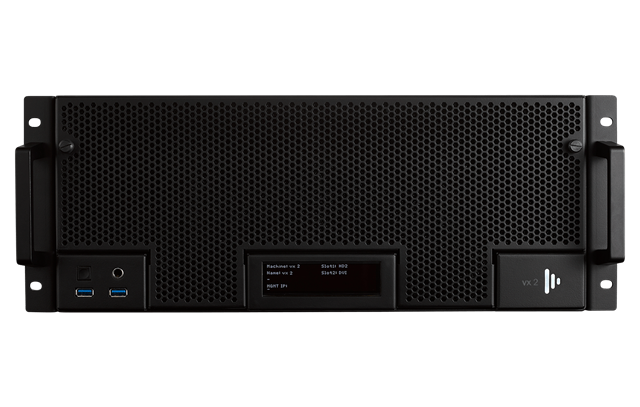 Enquire about the vx 2 
Complete the form to learn more about the possibilities of the vx 2. By completing the form you will receive our latest software and hardware developments, insights and case studies on how our community are using this new technology to advance their production workflow. 
​
Optimised for playing up to two times uncompressed 4K60 using its high-performance NVMe drive; as well as the capability of playing lossless 10-bit video. 
The vx 2 can capture either 8xHD (3G-SDI) sources or two 12G.
Even more network bandwidth with dual 25GbE and dual 10GbE ports; enabling faster media file transfer and higher resolution networked live video capture.
The vx 2 comes with high-performance NVMe 4TB* as standard.
* Storage upgrades available
The vx 2 ships with two HDMI 2.0 VFC output cards by default.
Technical specifications
System Connectivity - I/O
Video Output
1x Displayport 1.2 (GUI)
2x VFC Output Slots
Ships standard with HDMI 2.0 VFC cards (4096 x 2160 max)
Different Video Format Conversion Cards also available, refer to VFC specifications
Video Input
2x 12G-SDI
or
8x 3G-SDI or 2x 2160p60 (Quad Split)
(HD-BNC connectors)
Video Sync
1x BNC Genlock
Media File Specifications
Video Playback
.mov (anim, DXV, Hap, Hap Q, Hap Alpha, NotchLC)
Still image formats
.png, .jpeg, .bmp, .tiff, .tga, .dpx
Audio file formats
.mp3, .wav (44.1kHz, 16-bit, stereo)
3d mesh format
.obj
Audio
RME Professional
Analogue Audio
2x Balanced XLR Input
2x Balanced XLR Output
1x 1/4" Headphones Jack
Digital Audio
ADAT/SPDIF I/O
MIDI
1x In
1x Out
Physical Specifications
Mounting system
4U 19" rack mount
Unit dimensions
W: 435mm (17.126'')
H: 178mm (7'')
D: 593mm (29.93'')
Unit weight
16.5kg
Unit + Rack Handles
621mm (24.45'')
Environmental Tolerances
Temperature: 5-35°C (40°-95°F)
Humidity: 20%-80% (non-condensing)
Altitude: 0-8850 ft (0-2700m)
Hardware Specifications
CPU
Intel® Xeon® Silver 2.5Ghz
Memory
48GB DDR4 RAM
Storage
2x 128GB SSD
(Internal System Drives)
1x 4TB Removable NVMe SSD (default)
General Network
1x 1Gb/sec Ethernet
2x 10Gb/sec Ethernet
High Speed Network
2x 25Gb/sec Ethernet
System Management Controller
1x Management Port (Reserved for future use)
Data/Peripherals
5x USB 3.0
Voltage
115-240V, 50-60Hz
Power Consumption
600VA @ 240V, 50Hz (max)
Software Features
Operating System
Windows 10 Enterprise SAC
disguise Proprietary
Full production suite
Bundled Accessories
Bundled Accessories
Keyboard
Mouse + Mouse Mat
Power Cable (Plug-True1)
Hardware Guide
Backmounted Rails
Getting Started Guide
Support, Updates and Warranties
License subscription package includes
– Free software upgrades for the life of the machine
– 2 year return to base hardware warranty