vx 4+
The new industry-standard media server powering the world's biggest and most technically demanding live and virtual productions.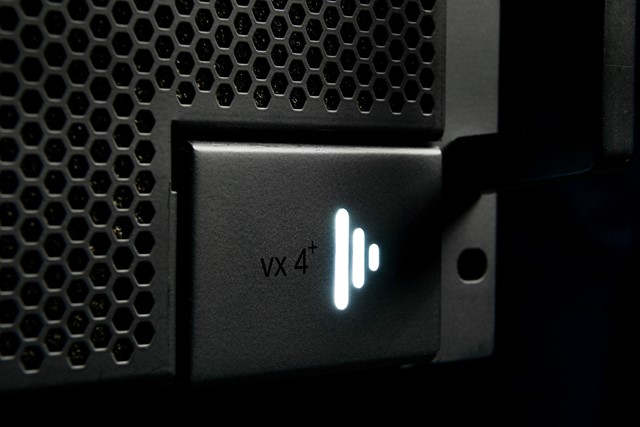 Better playback performance
With major video processing improvements and increased storage performance, the vx 4+ can handle more than twice the amount of video layers than its predecessor, whilst also keeping video latency to a minimum.
Improved video throughput
Designed to become part of the disguise modular ecosystem, the vx 4+ includes two 100GbE network ports and 12G video capture as standard, enabling an improved 4K xR compositing performance alongside a cluster of rx render nodes.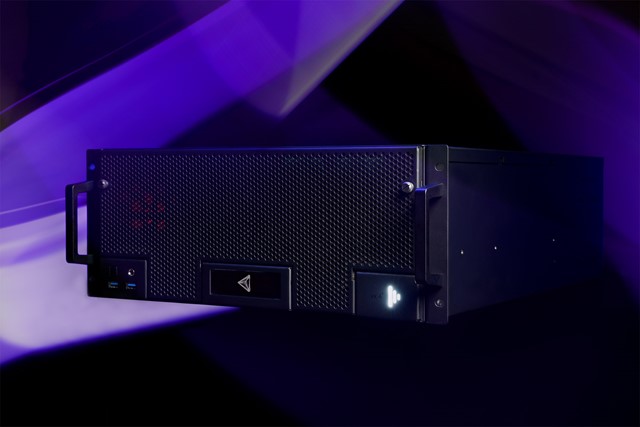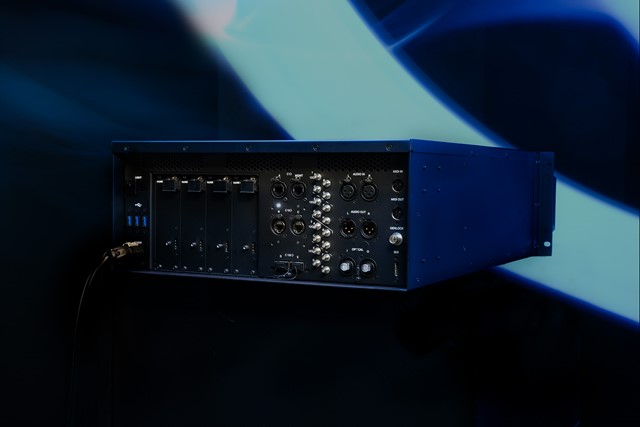 Meet growing content demands
Unlock additional bandwidth to future proof your video playback requirements and never drop a frame again! The integration of a new PCIe 4.0 motherboard, CPU, GPU and RAID storage, ensures that the vx 4+ video playback and compositing performance is unrivalled.
Battle-tested chassis
Ruggedised in the battle-tested chassis of the pro range with hi-res OLED front panel displaying detailed system information.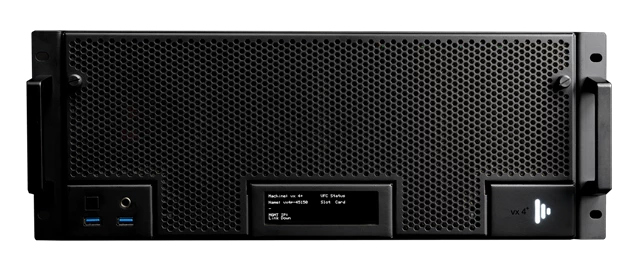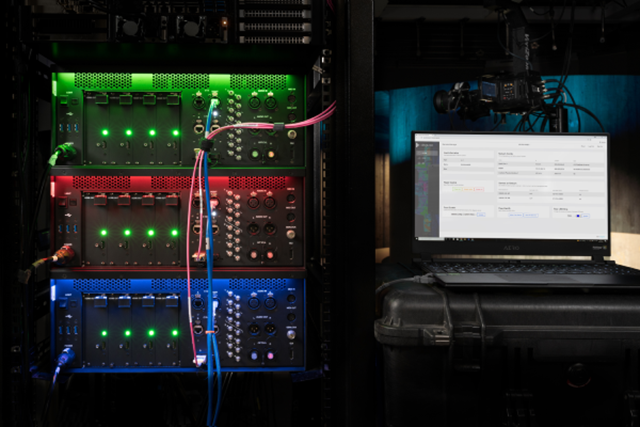 Easy identification
Set up your vx servers with the System Management Controller (SMC). Access the web portal to see chassis, system and networking stats on a single pane of glass. Colour LED and blink modes help identify servers easily.
Powered by RenderStream 
The pro range includes powerful content playback and compositing servers. At the core of the disguise ecosystem, the vx media servers receive content with tracking data via RenderStream and output scenes onto the stage with pixel perfection.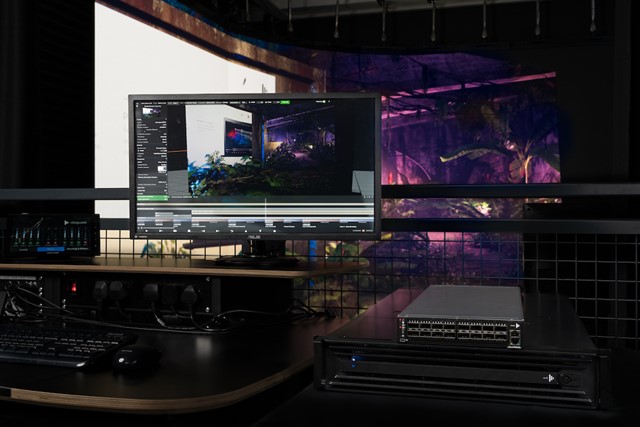 Cluster Rendering
Deliver high fidelity graphics safely by distributing rendering power across multiple render nodes.
Seamless synchronisation
Synchronise your physical stage with your virtual set via hardware, software, content engine and camera tracking
Unreal workflows
Immediately impact your productivity with dynamic control of the engine and automatic workflows on Unreal Engine, Notch and others.
Optimised for playing up to four times uncompressed 4K@60p using its high-performance NVME RAID drive array; as well as the capability of playing lossless 10-bit video. 
The vx 4+ can capture either 4x 12G-SDI sources or 16x 3G-SDI sources.
Even more network bandwidth with dual port 100GbE and dual 10GbE ports, enabling faster media file transfer and higher resolution networked live video capture.
The vx 4+ comes with 4x 1.92TB Removable NVMe SSD with RAID* and is user configurable, with failure mitigation. It uses the latest technology drives which allow for almost double the storage speed of a vx 4.
* RAID level dependent / RAID 0 8TB available
The vx 4+ ships with four HDMI 2.0 VFC output cards by default.
Technical specifications
System Connectivity - I/O
Video Output
1x DisplayPort 1.4 (GUI)
4x VFC Output Slots
Ships standard with HDMI 2.0 VFC cards (with maximum output of 4K@60p)
Different Video Format Conversion Cards also available, refer to VFC specifications
Video Input
4x 12G inputs (or 16x 3G inputs)
(HD-BNC connectors, 4x 4K@60p max)
Video Sync
Tri-Level & Black burst (BNC connector)
Digital Audio
ADAT/SPDIF I/O
MIDI
1x In
1x Out
Media File Specifications
Video Codecs
Support for both 30p and 60p versions of HAP (HD and UHD), HAPQ (HD and UHD), Animation (HD and UHD), TIFF Sequence (HD and UHD), Notch LC (HD and UHD), DPX Sequence (UHD), TGA Sequence (UHD) and TIFF Sequence (UHD)
Still image formats
.png, .jpeg, .bmp, .tiff, .tga, .dpx
Audio file formats
.mp3, .wav (44.1kHz, 16-bit, stereo)
3D mesh format
.obj + .abc
Audio
XLR audio I/O
Physical Specifications
Mounting system
4U 19" rack mount
Unit dimensions
W: 445mm (17.52'')
H: 178mm (7'')
D: 593mm (23.35'')
Unit weight
21kg (46.3lbs)
Unit + Rack Handles
621mm (24.45'')
Environmental Tolerances
Temperature: 5-35°C (40°-95°F)
Humidity: 5%-95% (non-condensing)
Altitude: 0-2700m (0-8850 ft)
Hardware Specifications
CPU
Intel Xeon 3.1Ghz
Memory
128GB RAM (8 x 16GB)
Storage
2x 256GB SSD (Internal System Drives)
4x 1.92TB Removable NVMe SSD with RAID
Analogue Audio
2x Balanced XLR Input
2x Balanced XLR Output
1x 1/4" Headphones Jack
General Network
1x 1Gb/sec Ethernet
2x 10Gb/sec Ethernet
High Speed Network
2x 100Gb/sec Ethernet
System Management Controller
1x Management Port
Data/Peripherals
5x USB 3.0
Voltage
100-240V, 50-60Hz
Power Consumption
860 W
Software Features
Operating System
Windows 10 Enterprise SAC
disguise Proprietary
Full production suite
Bundled Accessories
Bundled Accessories
Bundled Accessories
Keyboard
Mouse + Mouse Mat
Power Cable (Plug-True1)
Hardware Guide
Backmounted Rails
Getting Started Guide
Support, Updates and Warranties
Licence subscription package includes
Free software upgrades for the life of the machine
2-year return to base hardware warranty
Power to scale
We regularly test our media servers to ensure that they perform to the highest standards. Below is the playback performance data for the vx 4+.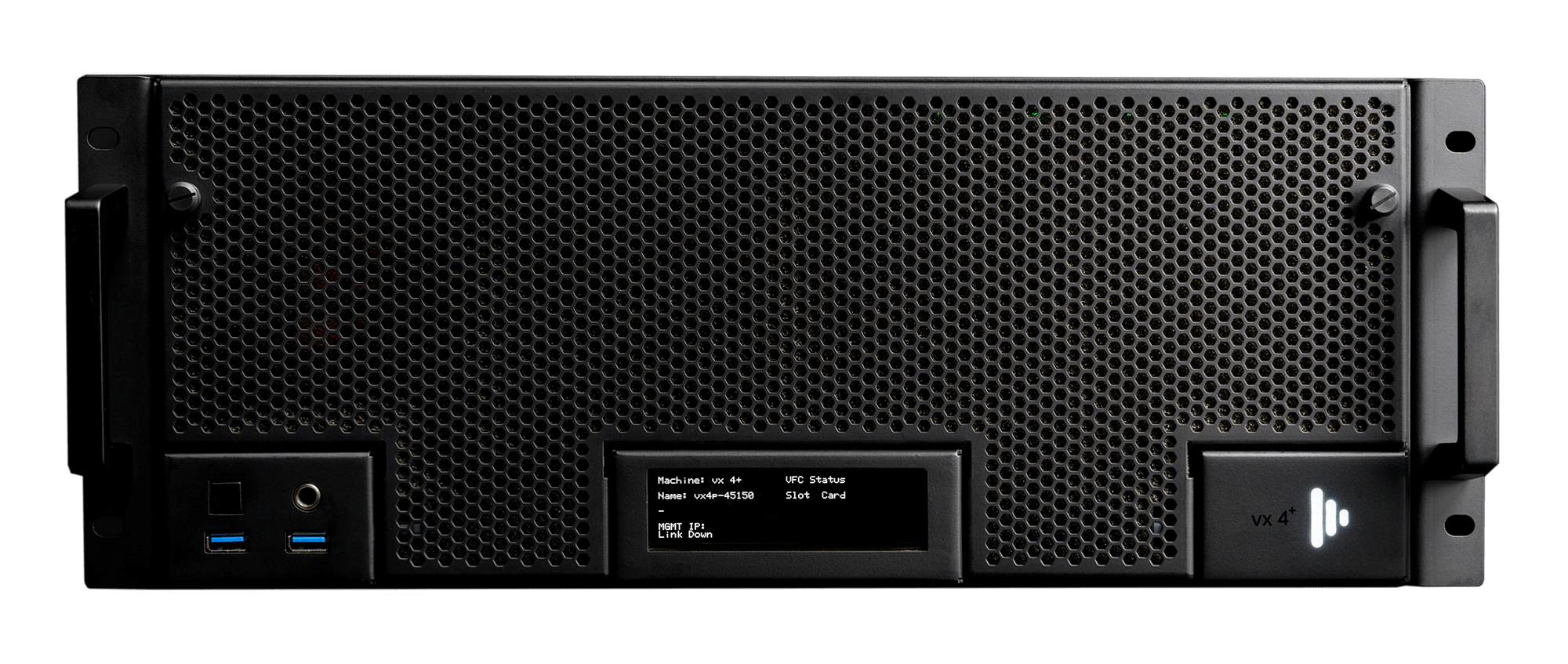 Playback
The following table shows how many layers can simultaneously be played back per codec
vx 4+
| | | |
| --- | --- | --- |
| Video codec | Content data rate | Max layers |
| HD HAP 30 | 31 MB/s | 60 |
| HD HAP 60 | 62 MB/s | 54 |
| HD HAPQ 30 | 61.25 MB/s | 57 |
| HD HAPQ 60 | 122.5 MB/s | 53 |
| HD Animation 30 | 187.25 MB/s | 41 |
| HD Animation 60 | 374.5 MB/s | 6 |
| HD TIFF Sequence 30 | 237 MB/s | 34 |
| HD TIFF Sequence 60 | 474 MB/s | 18 |
| HD NotchLC 30 | 78.375 MB/s | 36 |
| HD NotchLC 60 | 156.75 MB/s | 5 |
| UHD HAP 30 | 132 MB/s | 30 |
| UHD HAP 60 | 264 MB/s | 24 |
| UHD HAPQ 30 | 261.25 MB/s | 22 |
| UHD HAPQ 60 | 522.5 MB/s | 16 |
| UHD Animation 30 | 798.25 MB/s | 10 |
| UHD Animation 60 | 1596.5 MB/s | 2 |
| UHD TIFF Sequence 30 | 949 MB/s | 9 |
| UHD TIFF Sequence 60 | 1898 MB/s | 4 |
| UHD NotchLC 30 | 331.5 MB/s | 17 |
| UHD NotchLC 60 | 663 MB/s | 5 |
| UHD DPX Sequence, 8-bit, RGB, 30 | 759 MB/s | 10 |
| UHD DPX Sequence, 8-bit, RGB, 60 | 1518 MB/s | 4 |
| UHD DPX Sequence, 10-bit, RGB, 30 | 1011 MB/s | 9 |
| UHD DPX Sequence, 10-bit, RGB, 60 | 2022 MB/s | 3 |
| UHD TGA Sequence, 8-bit, RGB, 30 | 759 MB/s | 10 |
| UHD TGA Sequence, 8-bit, RGB, 60 | 1518 MB/s | 6 |
| UHD TGA Sequence, 8-bit, RGBA, 30 | 1011 MB/s | 9 |
| UHD TGA Sequence, 8-bit, RGBA, 60 | 2022 MB/s | 5 |
| UHD TIFF Sequence, 8-bit, RGB, 30 | 759 MB/s | 12 |
| UHD TIFF Sequence, 8-bit, RGB, 60 | 1518 MB/s | 6 |
| UHD TIFF Sequence, 8-bit, RGBA, 30 | 1011 MB/s | 9 |
| UHD TIFF Sequence, 8-bit, RGBA, 60 | 2022 MB/s | 5 |
Measured against

r21, build 88414*
*All HD codecs listed above have an output resolution relevant to Full-HD (1920 x 1080). All UHD codecs listed above have an output resolution relevant to 4K DCI (4096 x 2160)
vx 4+ specification sheet