concert touring - 2018
Marco Borsato Arena Shows
disguise support Dutch superstar Marco Borsato's sold-out arena shows in Antwerp
When Dutch superstar singer Marco Borsato performed three arena shows during his 'Thuis' (Home) theater tour the extensive video content and Notch realtime VFX were driven by disguise gx 2 media servers.
Marco Borsato has been one of the most successful and biggest grossing artists in The Netherlands for the past 20 years. His 'Thuis' tour, in support of the album of the same name released last November, features more than 20 dates. It includes three sold-out performances at the iconic Sportpaleis in Antwerp, Belgium in May 2018.
Lighting and Set Designer Carlo Zaenen of Q.be created an overall stage design with a 42-metre curved, semi-transparent LED wall "since Marco wanted to be 'embraced' by the set and not just stand in front of a giant LED wall," he explains.  Above the stage was a 25mm V-Thru LED box, with even more transparency, and a 12 x 2-meter LED roof; more than 700 moving lights added glitz and dynamics.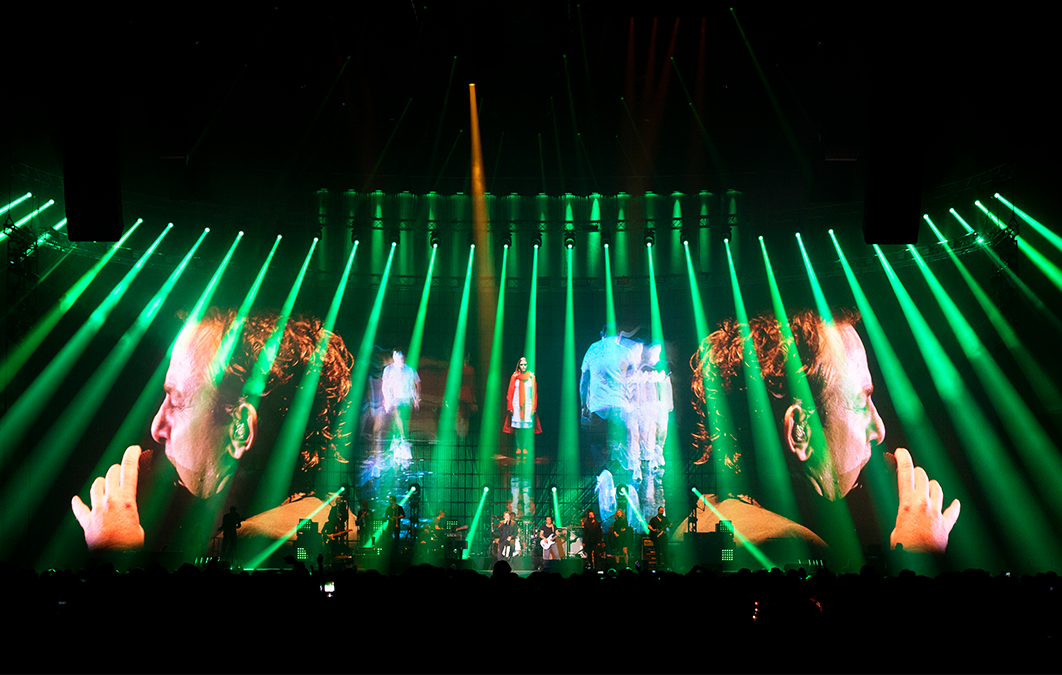 Carlo wanted to use Notch realtime VFX, and Marco expressed the desire to have the live feeds implemented in the background visuals and not just on IMAG screens. 
"When Jo [Pauly] and I had our first meeting it was immediately clear we needed to use disguise to achieve our goals,"
Carlo Zaenen - Lighting and Set Designer
While disguise is the media server of choice of Jo Pauly of Visual Solutions, Borsato's Video Operator, the disguise gx 2s were specially selected for the Antwerp shows for their power and accuracy in providing live rendering using the powerful Notch software and blocks.  The gx 2 also had a live connection and interaction with the grandMA2. In addition, "lighting could work within disguise through Art-Net, disguise could work on the light patch SGM strips and both played out well together matching the show's very difficult video and content flow," says Jo.  
"disguise offers perfect integration with Notch and [they are] the only combination that can handle complex layered workloads with external inputs and triggers," explains Art and Content Director Michael Al-Far of Malfmedia Ltd.  "We used Notch to give ourselves a huge dynamic range of possibilities for handling the live feed in a unique way. Because of the absence of dedicated IMAG screens, the live feeds had to be integrated into the background graphics.  So Notch was not only used for its unique handling of beat-driven graphics but also for adding four auxiliary live feed inputs to the mix in ways no other system out there would allow us to do."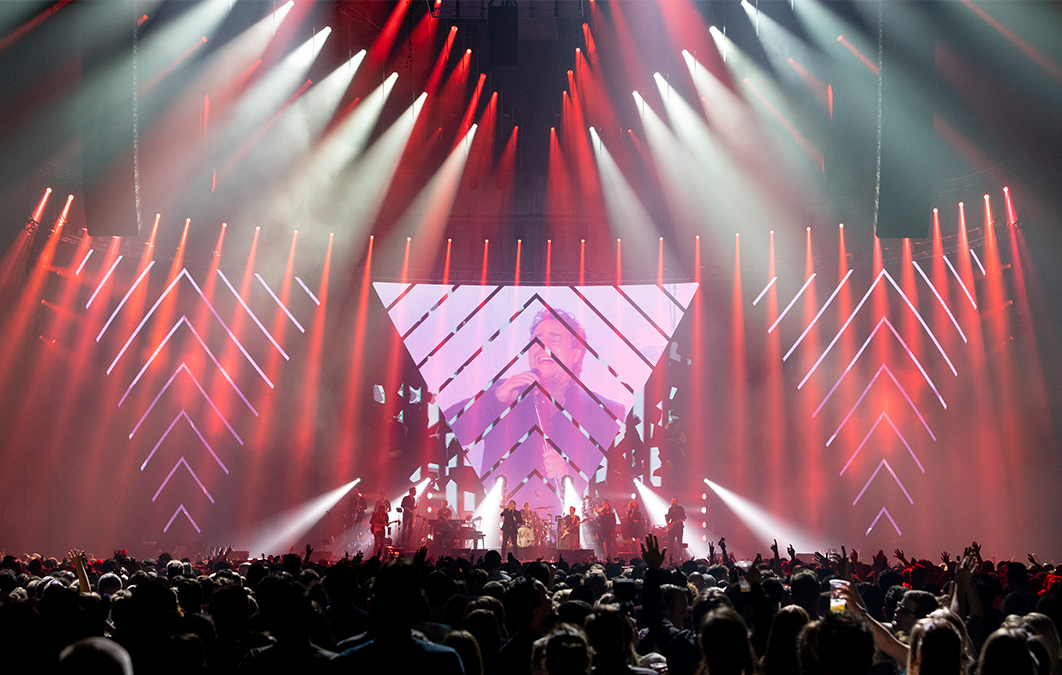 Four 1080i50 live feeds were sent to the three gx 2 media servers; a live audio input was included to capture audience reactions.  The main and backup systems were controlled by an Elation Midicon Pro console, and the entire system was connected with timecode to ensure absolute sync with the audio.
One of the highlights of the show was a song called 'Rood' (Red) for which Michael and his team modelled a CG cathedral.  "With the use of c4d and Octane we rendered out 24 different light zones in this cathedral, as if we had taken a lighting truck to a real cathedral and rigged those lights in real life into the structure," Michael explains. "Intensity and color control were handed to the lighting desk allowing the LD to blend the dynamics of the real world lighting to the lighting in the virtual model. This result left nobody untouched and really brought together both background graphics and the lighting rig."
During prepro "the gx 2 media servers allowed us to quickly visualise and test some of Michael's ideas in a show environment," Jo notes.  "We were able to do the complete programming and output map in our studio, so when we arrived in Antwerp we just plugged in the fibre cables to the LED wall and were technically ready to go.  disguise's Multi Transport of different tracks made the system very easy and understandable."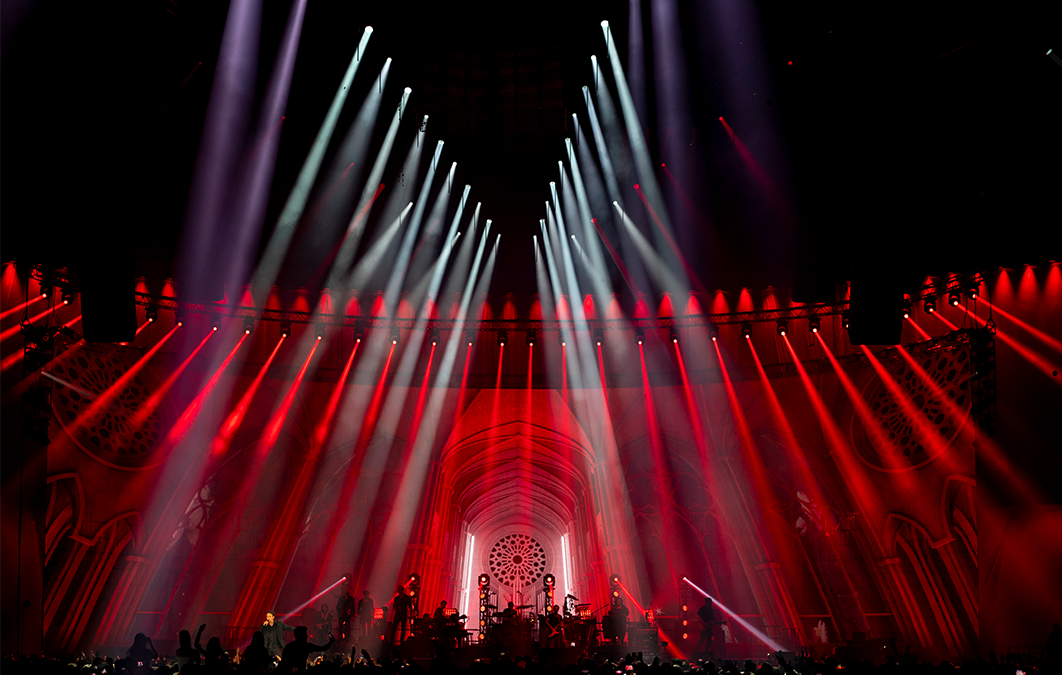 Michael says the "disguise visualiser offers a unique way of showing the customer what a certain song would look like long before we actually get to the venue.  This is a big leg up on other systems out there."
Jo adds that, "Since we were pushing the machines to their limits, we kept in close contact with disguise support who were, as always, very reactive with tips and tricks."
"disguise performed perfectly providing us all the tools we needed to offer the audience a visual spectacle with unseen techniques," says Carlo. "All of the comments were very positive, and I am very thankful to everyone involved who made this possible."
Credits
Lighting and Set Designer

Carlo Zaenen
Video Operator

Jo Pauly
Art and Content Director

Michael Al-Far
Show Director

Marcel de Vre
Notch Artist

Maarten Francq
Lighting Operator

Leon Driessen 
Content Artists

Aitor Biedma

Marco DeRuyck

Bart Tauwenberg

Mikki Arregui

Olav Verhoeven
Images