blog 2023 5 min read
Controlling Unreal Engine broadcast graphics with disguise
Real-time engine graphics are now the most impressive they've ever been. With this comes the possibility for games to take us to worlds we could never previously have imagined, but also the opportunity for these graphics to find other applications.
At New York's annual National Association of Broadcasters Show (NAB), the organisation's Senior Editor for NAB Amplify, Emily Reigart, sat down with disguise to discuss the future of computer game engine graphics in broadcast. Here are four key takeaways from the conversation:
1. Virtual production brings Unreal Engine to broadcast
The last few years have seen a boom in virtual production across the globe, fuelled in no small part by the impact of the Covid-19 pandemic. Restrictions limited the size of sets and the locations available to broadcasters. In this environment, virtual production offered many an opportunity to continue telling valuable stories while working around various constraints like the number of crew on site.
As the world opened back up, producers employing virtual production techniques stuck with the new technology thanks to the diverse range of opportunities it presented, and the streamlined processes it offered their teams.
Unreal Engine has been fuelling ideas within virtual production for some time, allowing broadcasters to bring their ambitions to life. From graphics in elaborate virtual sets to dynamic augmented reality (AR) content, Unreal Engine can fuel impressive graphics that grab the viewer's attention and make people talk.
This doubles the appeal of the technology for disguise's VP for Business Development in Broadcast David Jorba.
There is a higher demand for keeping fans engaged, and an expectation for photorealism in graphics. All of that is moving towards gaming engine graphics and pushing those creative boundaries."
David Jorba, VP for Business Development in Broadcast, disguise
In an attention economy, Unreal Engine offers broadcasters a head start in capturing the audience's imaginations.
2. Easily use Unreal Engine graphics in your broadcast
disguise's user interface Porta has been built with broadcasters' graphics workflow in mind. It enables those to easily capitalise on the boom in computer graphics across broadcast, no matter their experience in operating these technologies.
Offering an end-to-end solution for data-driven graphics in Unreal Engine, Porta allows users to control dynamic content and engaging visuals in their live broadcast shows. Its data integration facilities mean that productions from sports programming to weather reporting can feature live figures and information. Porta's latest release also offers MOS newsroom integration for news productions around the world looking to present in an attractive and interesting way.
Simplicity sits at the heart of Porta's functionality, with a wide range of features and the ability to create templates in order to help users quickly draw on pre-existing graphics and ensure a consistent look and feel for their programming.
Agnostic to workflows, Porta works with any type of playlist mode, allowing for maximum accessibility. It's also cloud-native, making it easier for collaborators to log in and help build great broadcasts from wherever they are in the world.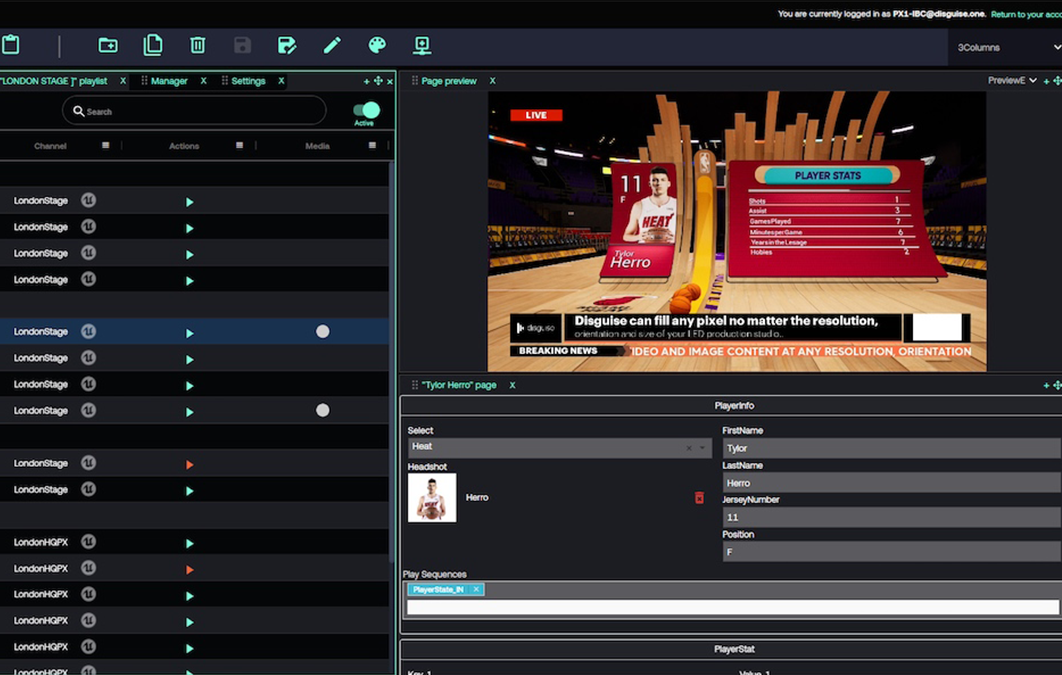 3. Making Unreal Engine accessible to all productions of any size
Jorba explains that incorporating Unreal Engine into broadcasts can be an intimidating concept for those unfamiliar with the system. "A lot of productions at the moment really want to use Unreal but it's quite daunting for them," he says. "Their operators and their designers are all trained in more traditional broadcast graphics systems. Porta makes it easier to adopt the new tools and graphics workflow"
On top of this, moving from one software system to another always brings about the question of how to integrate it with existing workflows. Porta seeks to remedy this by offering up a simplified workflow which allows production teams to begin the process of bringing Unreal into their workflows with the least amount of disruption possible.
Because it's so easy to learn, productions don't need to worry about bringing in specialists in order to get impressive data-driven Unreal Engine visuals on screen. This means that broadcasters can achieve everything they want using existing team members.
It also offers a lifeline to smaller productions looking to punch above their weight. With such a streamlined workflow, even the smallest of production teams can operate Porta and trigger simple graphics that can boost the look and feel of their production.
4. Adapt to different broadcast workflows
As well as being designed around broadcasters' need for an accessible entry point to Unreal Engine, Porta is also completely integrated into disguise's existing tech. The company's newest high-performance render hardware, the px, has been engineered to operate vanilla Unreal Engine graphics. By pairing Porta and the px together, broadcasters will have a powerful starting point for dazzling on-screen graphics.
The flexibility of the disguise set-up also allows users to realise a wealth of different uses. As well as simpler broadcast graphics, like L-shape master control graphics (MCR), Porta offers computer CG and AR to enhance presenters' storytelling.
And because Porta is integrated with disguise's other products, including its Designer software, it can allow users to manage in-studio LED content within the same workflow. This means presenters in the studio can be surrounded by and interact with stunning visuals around them while also appearing alongside AR elements. At its most impressive, Porta is capable of helping broadcasters deliver engaging extended reality virtual productions, combining virtual studios with real life sets.
With the potential to take dazzling Unreal Engine graphics and integrate them into a live production delivering MCR, AR and LED elements all at once, the National Association of Broadcasters New York Show saw how broadcasters can now deliver whatever they imagine using one simple workflow.