blog 2023 9 min read
disguise is the platform of choice for South Korea's advancement into real-time and virtual everything.
Interest and use of real-time technology have risen dramatically in the past three years, particularly in South Korea. This is no surprise with new capabilities and innovations in technologies from disguise and partner platforms such as Epic Games' Unreal Engine. Five prominent studios in Korea are using these tools in their productions: CJ ENM, NP Inc, VA Corporation, XON Studios and Westworld. Here is how these leading studios gain value from Unreal Engine and disguise technologies:
CJ ENM creates awe-inspiring broadcast content
CJ ENM is a leading entertainment company originating from Korea that provides top-notch original content to various media platforms across the globe. They are at the forefront when it comes to creating original content including must-see dramas, award-winning movies, and addictive reality entertainment that leads the industry and delivers value to viewers. They mainly cover media content, music, film, performing arts, animations and content for conventions.
CJ ENM first started using disguise in our live shows and events due to disguise's ability to operate as a timeline-based media server. In addition, the operation is separated by the director and the actor, enabling more stable display support than media servers from other companies."
CJ ENM Virtual Production General Manager Changik Jeong.
When CJ ENM started experimenting with extended reality (xR) for TV broadcasts, disguise was selected for its smooth interworking with LED walls.
"We want to provide viewers with extreme immersion and experience through xR, while delivering the impression of content beyond physical limitations," says Jeong.
CJ ENM also uses content developed in Unreal Engine to bring their productions to life.
According to Jeong, "Unreal Engine allows us to modify the content according to the field environment. By enabling real-time content modification, we were able to improve the final quality more flexibly and quickly."
Both Unreal Engine and disguise are being used in CJ ENM's large IP dramas as well as other shows and events.
Jeong believes that, with real-time technologies like disguise and Unreal Engine, the form of entertainment content will diversify. Users will be able to experience content in space rather than on a screen.
According to Jeong, "this will be useful, not only for interesting content, but also for informational content, such as experiencing places that are difficult to go in person, experiencing things that are difficult to do in person, and exploring multiple pieces of information at the same time. As it is still applied to various fields such as medical, education, and construction other than entertainment, I think the way content is consumed and shared across all industries can change."
NP Inc realises extended reality experiences for brands
NP Inc is a brand experience group that contemplates differentiated brand experiences and creates solutions. Through developing new technologies and planning content, they aim to create a real experience with no limits to space.
One of the key technologies they use is xR:
"The biggest advantage of NP's LED-based xR studio is the completeness of the production results. Real reflection and real lighting effects in a virtual environment in a large-scale LED volume create more realistic content," says Seungup Baek, Managing Director for NP Inc.
Used for major projects including Samsung's CES 2022 keynote speech, MAMA(the largest K-POP annual awards/festival in Asia hosted by CJ ENM), Major Music Awards ceremony by CJ ENM, and LG U+ Idol Live SM TOWN XR live, NP Inc's xR stage runs using Unreal Engine and disguise.
When NP Inc first started expanding its business into xR, they were in search of a dedicated technology server that could correctly synthesise and output the final xR results. disguise was the perfect choice.
"disguise is a rapidly growing technology solution and serves as a major pillar to support the expansion of NP's xR Stage," says Baek. NP Inc was impressed by the disguise community portal, training resources and support, believing it to be a useful resource as NP Inc ventured into new xR workflows. The team were also drawn to disguise's reliability as well as its compatibility through its relationships with real-time graphic engines, camera trackers, and LED system solution companies.
Additionally, disguise's RenderStream plug-in for UE has enabled NP Inc to achieve a more stable xR workflow.
Among the many advantages, the best advantage of using Unreal Engine is that it enables detailed imagination. Since you can see the material, lighting, and animation details with your eyes from the stage before the production site, you can make decisions on the layout and colour of the scene, and the interaction method in a more specific and realistic way. We look forward to the continuous partnership between Unreal Engine and disguise, which will enable freer graphics production in the future."
Seungup Baek, Managing Director for NP Inc.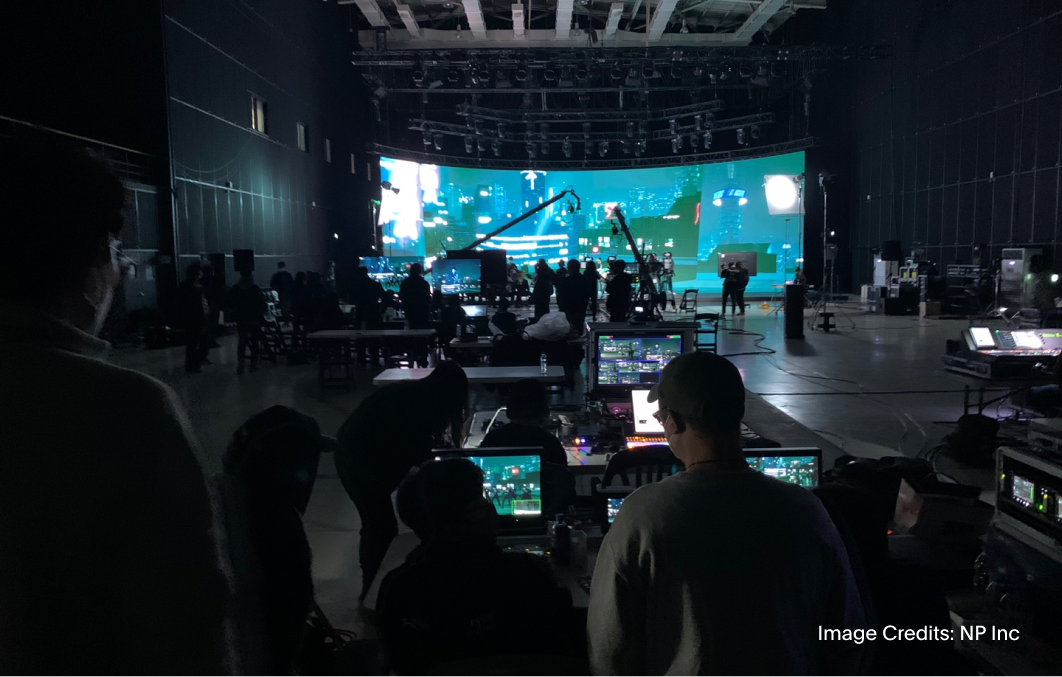 VA Corporation uses real-time technologies to build their metaverse platform
VA Corporation, or "Vision Above", a one-stop Metaverse platform company that aims to look beyond reality and provide new, technology-based services across content production, from planning to production and distribution of content, encompassing both the virtual and the physical.
Based on Asia's largest virtual production studio infrastructure and operation technology completed in June 2021, VA Corp is involved in xR content, AI-based virtual characters, and intellectual property content libraries. Their solutions platform is built with expertise from VA Corp's affiliates in entertainment, film/drama production, advertising, motion graphic, film distribution and more.
It also acquired Mofac, South Korea's longest-running visual effects (VFX) company, as a subsidiary. Currently, VA Corporation is planning to develop various businesses using virtual or expansion environments, technologies such as virtual humans and Metaverse platform businesses, as well as content production. 
When virtual production was used, the budget was reduced by about 37% compared to traditional production methods. The percentage of this cost will increase as technologies such as LED resolution, intellectual property diversification, and operating capabilities related to virtual production further develop in the future."
Ko Byunghyun, Executive Director of IP/Media Division, VA Corp.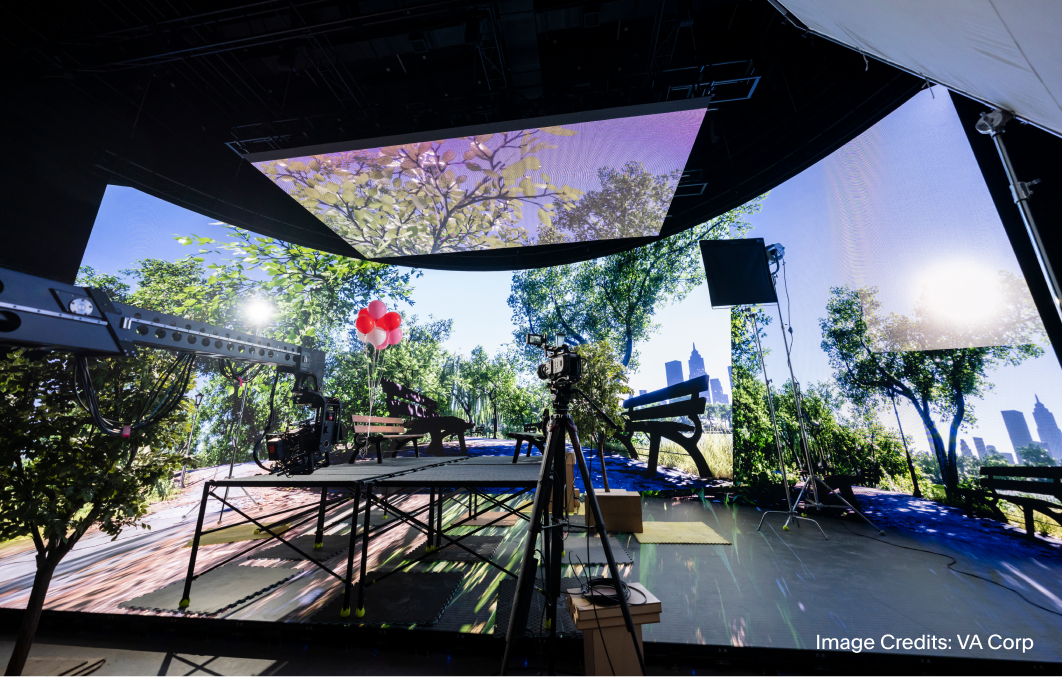 XON Studios reinvent virtual production in South Korea
XON Studios officially opened in August 2020 as Korea's first virtual production studio. They are currently building technical expertise in the production operation of virtual production technology through over forty project experiences.
According to Doohwan Park, VP Producer at XON Studios, "real-time rendering technology goes beyond the limitations of the pre-rendered method and combines the position and tracking technology of the camera to produce real-time applicable content through Parallax and Lens Focus, which adds realism to the content. These technologies play a big role in bringing content makers' imagination to life, controlling the time, climate, and physical variables that may occur in location shooting, and enable filming through indoor LED sets and minimal physical sets."
XON Studios first chose disguise so they could achieve both pre-rendered and real-time content simultaneously, as well as reliably operate on 8K resolutions within the LED volume, enabling real-time modifications and HDR workflows. 
Park believes that Unreal Engine is changing the world of virtual production by minimising the physical set configuration and linking the LED Wall virtual space in real-time for film and episodic TV. Shots that were only possible in the latter half of the VFX process can be checked and done in real-time on set. This enables the director and all crew to secure clear standards in the field, and produce high-quality content through smooth communication. 
According to Park, "the most important thing to pay attention to when it comes to producing xR-related content is the optimisation between technologies. In this method, various optimisation problems can be encountered, such as engine content data optimisation and calibration according to the control and transmission speed of the tracking system."
This is why Park believes that the Unreal Engine and disguise collaboration could be increasingly beneficial and valuable. 
According to Park, "in the case of performance content, the role of the media server is very important in responding to intuitive modifications in the field and in cue sheet-based operation."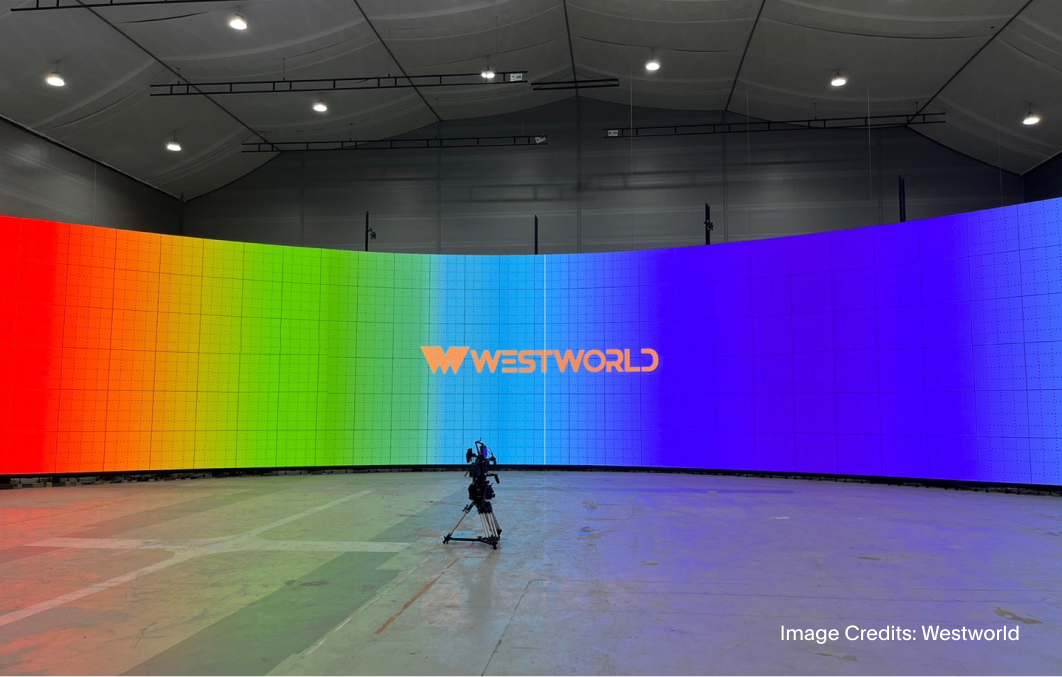 Westworld uses xR as more than a previz tool
With a 20-year legacy, Westworld has provided VFX for TV series like Sweet Home, The Silent Sea, All of Us Are Dead, Doctor Brain, Immortality, Forecasting Love and Weather, Reflection of You, My Country: The New Age, Itaewon Class and as well as films such as Smuggling, Hero, Seobok, Bogota and more. In addition, they are also doing DI (Digital Intermediate) business along with VFX, and participated in productions such as Squid Game, Doctor Brain, and Nevertheless.
Westworld intends to answer to the explosion in demand for film and episodic TV content due to the Covid-19 pandemic and the growth of the OTT market in South Korea and abroad. Under these market conditions, the company is also realising the need for a new production method to efficiently produce high-quality VFX content and continue to develop virtual production. This method is their xR stage.
According to Joo Young Lim, Head of R&D, "by combining Unreal Engine and xR technology, you can complete the existing time-consuming and costly previz process, shooting site provisional synthesis, and large-scale 3D environment production much more quickly. This efficiency ultimately leads to increased overall project completion."
Lim believes there is a world of opportunity when it comes to xR technology:
We believe that content production technology using game engines accumulated through xR technology will be a key technology that changes the overall VFX paradigm in the future, increasing the completeness of the content production environment and reducing production costs. It will do this by becoming a core technology that changes production, rather than something that complements the current production process."
Joo Young Lim, Head of R&D, Westworld
Real-time content and production processes powered by disguise and Unreal Engine are becoming fast adopted by leading virtual production and visual experience companies in South Korea. With the Seoul government building its own metaverse, the demand for real-time graphics creation and delivery tools is soaring. Unreal Engine, as the most powerful creation engine, together with disguise's seamless xR workflow is allowing studios in South Korea to create new virtual worlds and empower brand new capabilities in storytelling.
With CJENM, VA Corporation, KBS, Dexter Studios, WestWorld, XON Studios, SK Telecom, NP Inc, TreeTopParty, NIPA, Busan Film Commission, GCC, CTIA and KyungSung University building XR and VP stages, along with partners Ark Venture Korea, Jinwoo M&C and Basictech supporting the growth, the future looks very bright.
Speak to our specialists for help with your latest xR project