blog 2023 6 min read
Five opportunities for filmmakers seeking a career in virtual production
Virtual production (VP) has taken off around the world as filmmakers begin to take notice of the game-changing impact it can have on their projects - allowing for improved collaboration on set and many more benefits. As demand for talented VP crews grows, disguise has launched a Virtual Production Accelerator programme, designed to empower a new generation of creatives looking to make their mark in this new method of filmmaking. To celebrate the launch of the programme, disguise gathered a panel of experts from across the industry to discuss the future of virtual production. These were the five opportunities that young filmmakers can take away from the group's conversation:
1. Virtual production brings evolution to traditional content production
Leaps forward in technology, and limitations brought about by the pandemic have significantly accelerated industry adoption of virtual production in the past two years. While this is fantastic for the range of options available to producers now, it has also led to a division in the industry. Nick Rivero, co-founder of creative and technical virtual production specialists Meptik says that when it comes to recognising the benefits of virtual production "there are people who do know, and there are people who have no clue, and there's a huge chasm between the two".
This presents a challenge - Rivero says that Meptik find themselves educating many of their clients to show them the benefits of virtual production. But it also means that there's still a lot of opportunities for young talent in the industry to become experts in their field and make a name for themselves as awareness continues to grow.
Traditional film and episodic production is already benefiting from the efficiencies provided by virtual production. This new industry is well suited to add more capability in the hands of studios and storytellers alike.
Learn more about virtual production by reading our ebook
2. Capable workflow for effective storytelling
One of the biggest differences between traditional and virtual production is in the process itself. Virtual production offers crews a significant amount of flexibility on set, but filmmakers need to acknowledge that preparation is key. Sean Spitzer, Virtual Production Senior Instructor at Epic Games, explains that productions looking to make the most of Unreal Engine need to know in advance exactly what they're gonna do, because that's going to save so much time on the back end.
Virtual Production Supervisor Kathryn Brillhart says that she sees her role as being about the client experience: doing the preparation that helps a Director get their ideas out. Identifying the different backgrounds on set and preparing in a way that takes these into account allows her to build custom client experiences that make everything easier. "Those are the ones that function the best," she says.
By emphasizing the front end of the production process, and making more creative decisions up front, virtual production can then allow more flexibility and creative tinkering during principal photography. Cinematographers, Directors and Actors can make key decisions together, rather than rely on a post-heavy back-end process after the fact.
Learn more about disguise's VP solution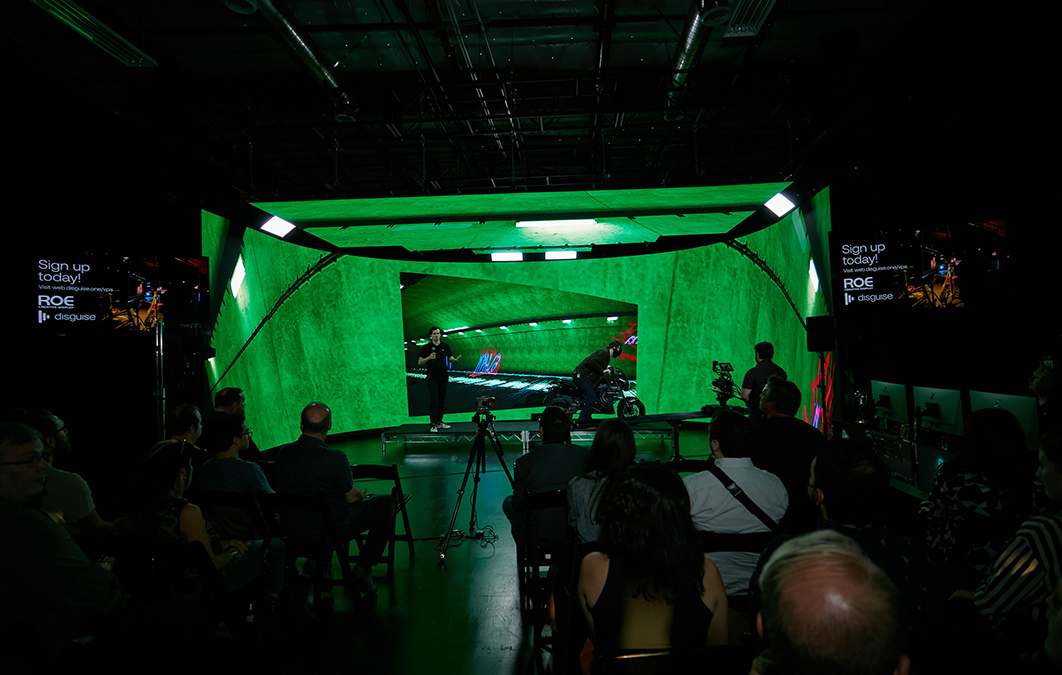 3. Building the right team
A theme the panel returned to throughout their discussion was that of 'casting' the best crew for each production. The process of creating something with virtual production techniques calls upon the talents of many, and requires a broad range of skill sets working in unison.
Brillhart, who has been working on the creative side of the industry for several years, has approached project casting in a variety of different ways. Early on, she teamed up with companies that had already built talented crews, but increasingly, as the industry democratised, she found herself with the luxury of picking and choosing the best individuals for each role on her team. Teams must be well rounded with various facets of not just technical but also creative skills.
Both Brillhart and Ben Baker, Virtual Production Line Producer at Mesh, have also engaged with another method of discovering the right talent for their crews. Through fellowships and engaging with wider VP communities, they've been able to make connections that they could call upon later when they needed to fill specific skill gaps. Francesca Benevento, Executive Producer at XR Studios, says that these connections are another reason communities made possible by initiatives like the disguise Accelerator Programme are so important.

4. People power productions
The sudden boom in virtual production has created a talent crisis in the field, with supply unable to meet the demand pouring in from every direction. Baker believes that visual effects companies can't just rely on external educators to provide the skill needed to fill the gaps. Instead, they have a responsibility to help train new talent that will become the next generation of filmmakers.
Nick Rivero says that there are plenty of people with the skills needed, but they are currently in the wrong industries and perhaps haven't yet realised the potential that virtual production offers them. As Baker says, "VP is 'just so new! It's a discipline that is still being invented everyday by the people in it."
Taking the steps to move into virtual production offers not only the opportunity to learn a new skill set that is extremely in demand, but also to shape the future of the industry itself.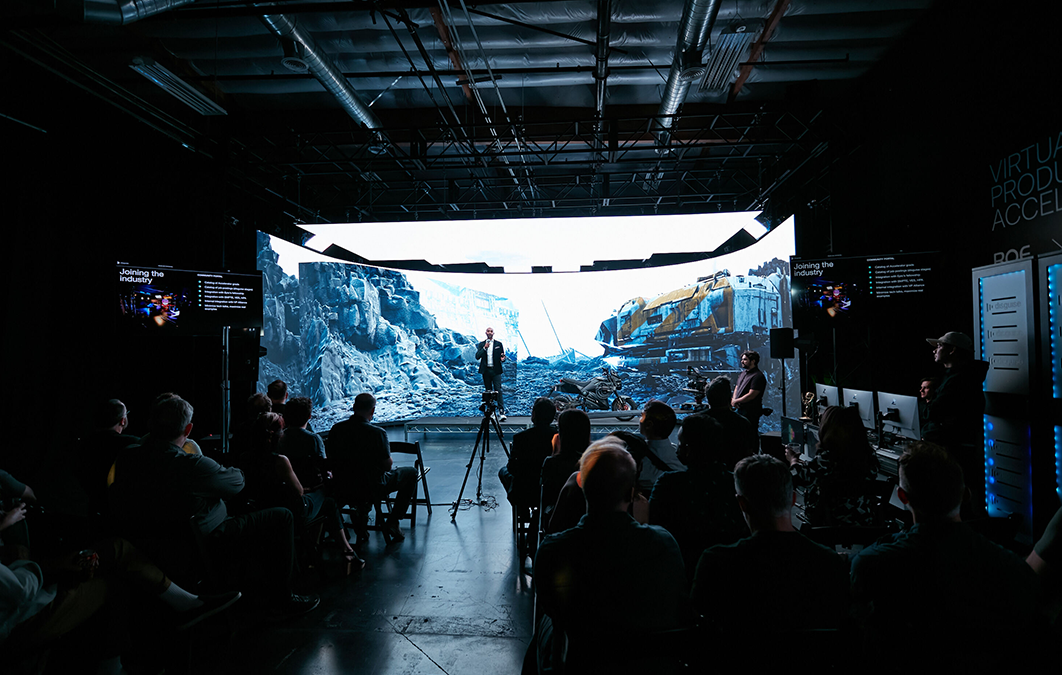 5. Virtual production learning is within reach
Brillhart has one key bit of advice for those looking to get into virtual production: "Start where you are and grow that."
With room for so many different specialists and skill sets on a virtual production set, there are a lot of different ways in, but learning and development sits at the heart of them all. Rivero believes a holistic approach to education is best, because every element of virtual production is tied together in a unique ecosystem. At Meptik even the camera specialists are required to learn Unreal Engine so that they can understand the impact it has on what they do, as well as the ways their work will affect the content.
If you want to jump in, take it all in. The more you learn about all these technologies, the more valuable you are and the more responsive you can be on set. You'll be better equipped to understand everything that's happening, and when you begin to focus on your specialist area you will know how it relates to the rest of the virtual production."
Nick Rivero, Co-founder, Meptik
Although VP is relatively new, the training needed to succeed in this industry already exists. Programmes such as disguise Accelerator is fine-tuned to provide the knowledge needed to start working on exciting projects taking place now.
Talent is virtual production's future.
The conversation offered plenty of eye-opening insights, drawing on the wealth of knowledge the industry experts have gathered from their time on virtual production sets. And across everything, it is clear that there is a wealth of opportunity in the coming years for those with VP skills. Programmes like disguise's Virtual Production Accelerator offers a way for young filmmakers to learn everything they need to make a career in virtual production, and to work alongside established names in the industry.
"The most valuable thing for everyone in the next four years is talent connection," Ben Baker says. "Being able to find talent, know their specific skills, and be able to cast them in very specific roles will be so valuable, and it will be the reason a lot of us get hired. Talent will be the most finite resource."
Learn more about the disguise Virtual Production Accelerator programme