case study 2019 3 min read
Louis Vuitton - Postcards from the Future
disguise powers Louis Vuitton futuristic store windows with video projection mapping.
When Louis Vuitton launched its Spring/Summer 2019 collection in stores around the world, the luxury retail company turned to video projection mapping was driven by disguise media servers to give mannequins in store fronts globally the illusion of futuristic global travel. 'Postcards from the Future' was shown in 12 Louis Vuitton flagship stores worldwide where windows acted as portals to different cities of the future. 
"Our brief was to design the video that was projection mapped onto the mannequins' faces as they travelled on runways through BEEPLE's futuristic cityscapes filled with flying vehicles and giant poster boards," says Luke Halls, video and projection designer with Luke Halls Studio, London. An LED video wall behind each mannequin displayed the cityscapes, which flanked the runways. BEEPLE is the American multimedia artist Mike Winkelmann. 
"Creative Directors Es Devlin and Nicolas Ghesquiere wanted to represent the models from the runway show in the projection content as well as explore themes of geography, scientific development and heritage," Luke continues. "So our projection content morphed the mannequins into different runway models. We visually interpreted digital DNA using street maps and binary code to help reveal each model's heritage and exploring how people's surroundings affect their personalities."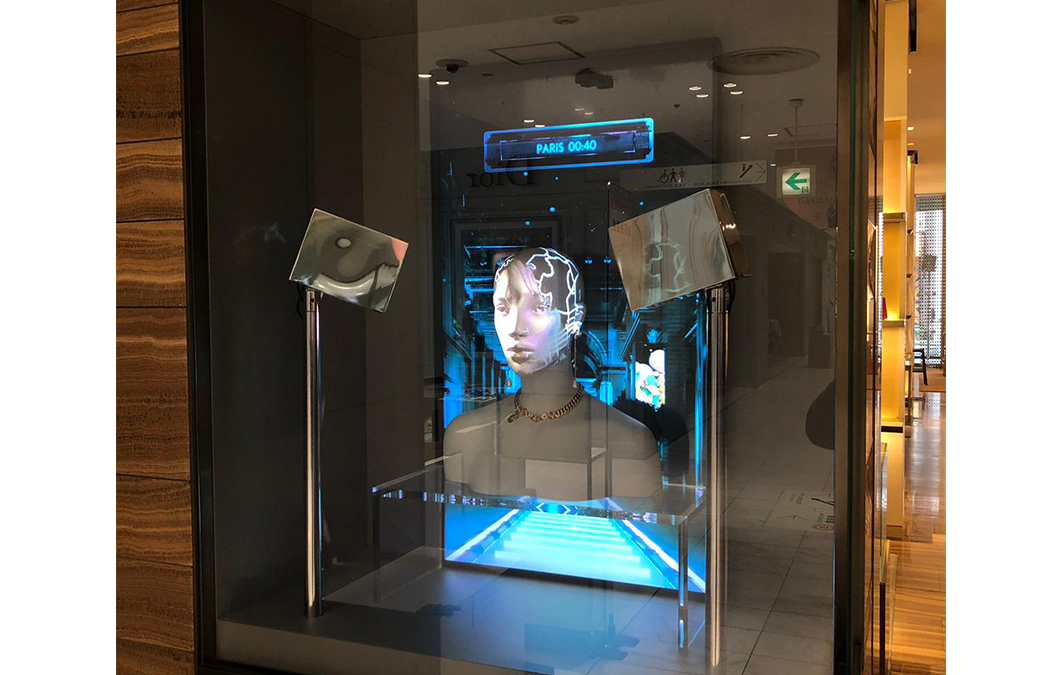 "We were also very interested in enhancing the illusion that the mannequins on the runways were, in fact, walking through the cityscapes," Luke explains. "To do this we reflected the corresponding scenes into the mannequins' faces creating HDRI maps of the scenes rotating over the metallic material comprising the mannequins. In addition, the content evolved over a 24-hour period following the clock of each city from morning to night."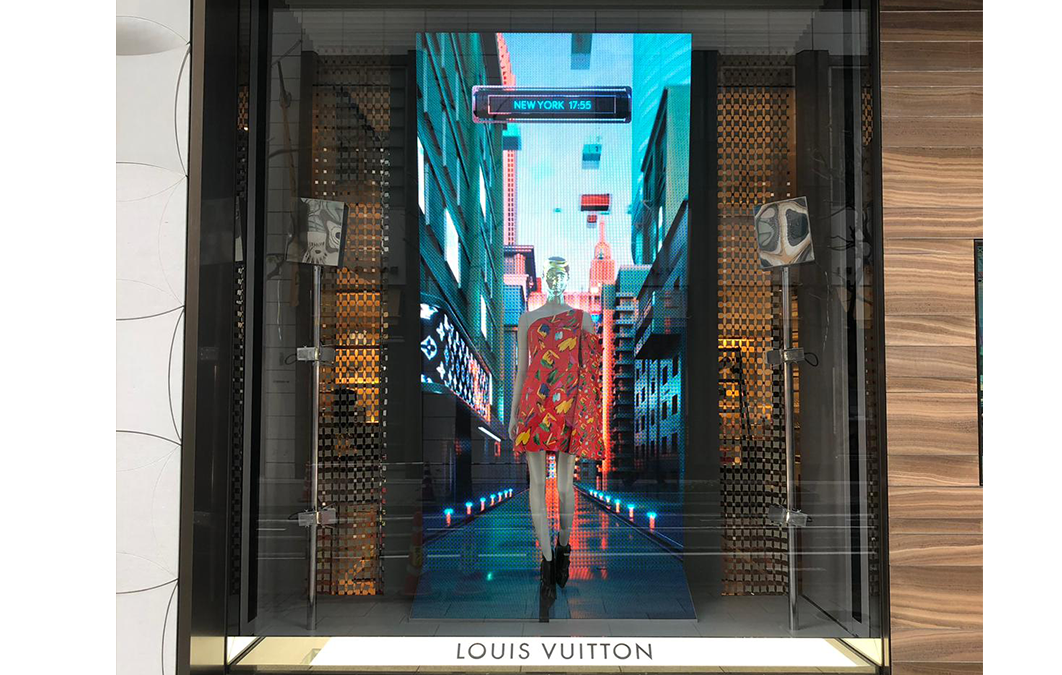 Luke worked closely with Julien Colet of Image Video Services (IVS) in St. Denis, France on video integration and programming to ensure that the projection mapping would be as accurate as possible store to store. "disguise was used heavily in pre-visualisation stages which allowed full flexibility when on site. We used disguise to map the content onto all variations of the window setups in one location creating 'dummy' windows using the exact positions of the mannequins in relation to the projectors," he says. IVS was supported by Stan Walbert from Stello Productions, disguise's reseller in France, to manage this workflow. "Once we were all happy with the mapping I rendered the feed outputs out of disguise", says Stan. "Then we were able to load a smaller playback system that could fit in the windows and loop and sequence the mapped content around the clock."
Credits
Creative Director

Nicolas Ghesquiere
Video and Projection Designer

Luke Halls
Window Design Associate

Machiko Weston
Projection Design Associate

Charli Davis
3D Generalists

Jon Botros
Video Integration and Programming

Julien Colet of Image Video Services (IVS)

 
disguise reseller

Stan Walbert from Stello Productions