case study 2019 4 min read
Qing Show
Luc Petit's highly anticipated creation of the 'Qing Show' opens in China with disguise at the heart of projection workflow
In April 2019, world renowned artistic director and show creator, Luc Petit, has launched a brand new show in Qingdao, China named the 'Qing Show'. This permanent show was in development for more than 4 years by international teams from Luc PETIT and Art Team Group Asia Ltd.
The grand opening of this exceptional and one of a kind show attracted more than 1,500 spectators. The disguise solution sits at the heart of the production with the 4x4pro's powering the show's extensive video projection mapping.
The show is staged in an innovative immersive theatre seating up to 1,500 spectators, featuring two sets of revolving bleachers and a 360º view of the action. The massive 50-metre wide water stage is backed by a beautiful 15-meter-high projection screen. There is also more than 430 items of special equipment, 263 costumes, 2D 3D flying systems and thousands of props are used on set for this unique storytelling show.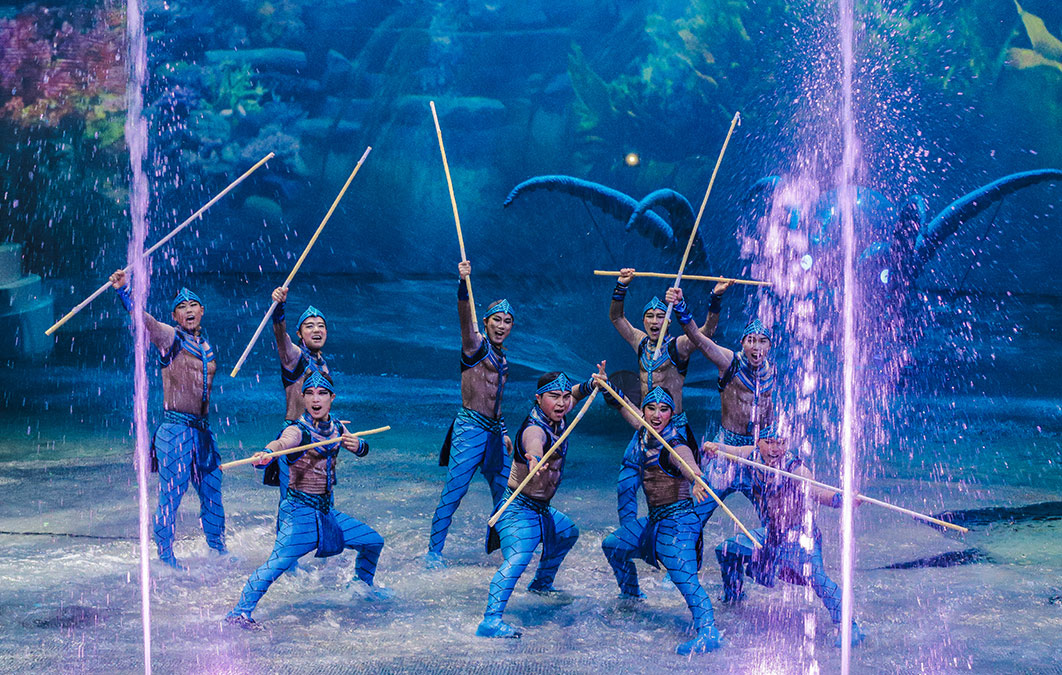 Qing Show tells the epic tale of The Eight Immortal Beings whose adventures represent archetypes within traditional Chinese society, each applying their unique strength as they work together to cross the sea. Along the way they encounter armies loyal to dragons and a variety of obstacles and must work together to succeed in their quest.
"This is a large venue with a cyclorama, big inflatables and some fountains as projection surfaces," says Stan Walbert of Stello Productions who managed the video mapping for the show. "This ambitious project took four years to design and create. The venue was built for the show and projectors, so their position and coverage had to be determined precisely." Stan and the team used disguise's projection study tool to determine luminosity, coverage and the number of projectors to use. 
"disguise's Projection Study tool was an essential part of the process ensuring accuracy in positioning of projectors, as well as providing a way for the content team to test their files with the disguise project."
Stan Walbert, Stello Productions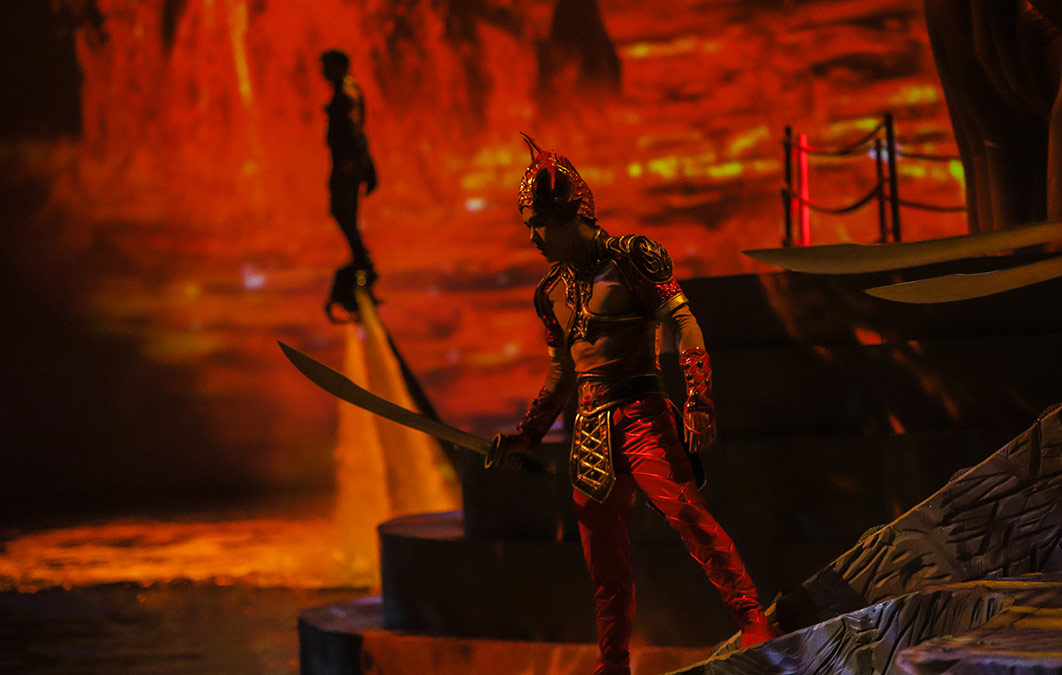 He explains that the story takes place in universes representing Fire, Ice, Water and Nature where projection mapping is mixed with 2D and 3D actors, flying props and automated scenery. All available surfaces are projection platforms in this immersive scenography. That challenging setup represented a total of 12 screens, five of them automated, in a wet environment that included seven large inflatables, a large curved cyclorama, a rear-projected fountain screen. 
"Projection mapping is an essential part of the show and makes the whole stage come alive," says Stan. "The venue building was specially constructed so all of the ground level could become a pool during the show."
"The construction had a few months of delay, but the opening date stayed the same, so we had to move fast and efficiently, and the disguise workflow was the perfect solution for those conditions."
Stan Walbert, Stello Productions
Workflow partner EVOKE Studios from Europe, found OmniCal to be a viable problem solver, especially in aligning the curved cyc whose physical screen had six corners, not all of which were visible at time of calibration. 
"We achieved solid calibration results on a screen it's safe to say anyone would have had a rather hard time with. OmniCal made it the proverbial walk in a park. It's a tool you can count on that slides into your existing workflows with great ease, filling in some gaps one might run into," says Vincent Steenhoek, managing director for EVOKE Studios who together with its technical director Kristaps Liseks, managed on-site mapping, programming and systems.
"OmniCal enables us to resolve the challenges that projects like this bring and increases our confidence in project delivery and the achievable level of finish."
Vincent Steenhoek, managing director for EVOKE Studios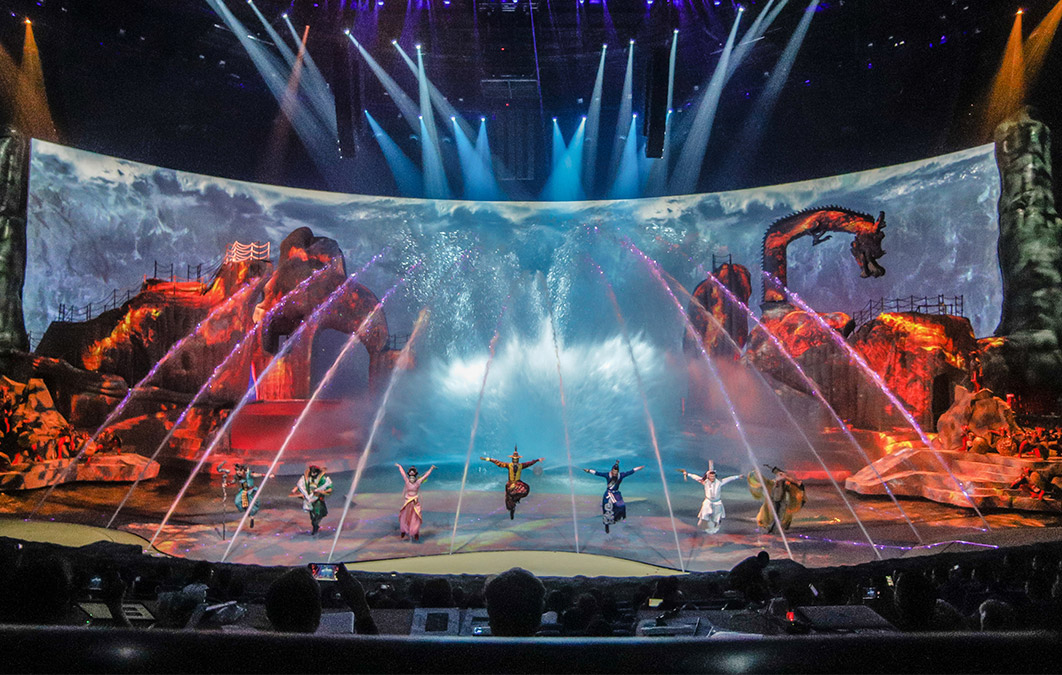 "When the construction showed some big differences from the 3D plans we used OmniCal to adjust the mapping calibration without sacrificing the quality or needing to remodel the surfaces in external softwares and redo content rendering," adds Stan. "The disguise Hong Kong and Shanghai teams were on hand to help with technical support."
Stan and the rest of the team made use of the disguise Designer software, allowing them to visualise, design and sequence their projects even when working remotely across different time zones. "The timeline was timecode driven, so it was very convenient to program - I was able to do that in France with the Video Designer while technicians were on site to calibrate the mapping. I just had to send them the show file so they could continue to work on site with the creator and content team."
Credits
Show Creator

Luc Petit
Production Directors

Philip Alexi and Anne Roelandt
Project Manager

Emmanuel Dufoing
disguise specialists

Vincent Steenhoek and Kristaps Liseks
Video Content Designer

Marie-Jeanne Gauthe
Video Content Team
Video projectionists

Matthew Villis and Bradley Hilton