tv broadcast / film - 2017
Tmall Double 11
disguise supports the visual execution for e-commerce giant, Alibaba, star studded gala broadcast.
China's e-commerce giant, Alibaba, broadcast its third annual 'Tmall Double 11 Global Shopping Festival gala' to kick off its mammoth 24-hour online shopping event, with over 300 million viewers and 140,000 different brands involved.
Held in Shanghai's Mercedes-Benz Arena, the star-studded show was viewed on Youku, the Tmall (shopping website owned by Alibaba) and Taobao mobile apps, YouTube and on Zhejiang TV, Beijing TV and Shenzhen TV across China. The show used the disguise gx 2, gx 1 and 4x4pro media servers to handle complex projection mapping, real-time motion tracking and Notch visual effects.
The gala featured appearances and performances by Nicole Kidman, Pharrell Williams, Maria Sharapova and Jessie J, among others. Its set consisted of a 19x10-meter portal in the shape of a cat's head, which served as a projection surface. Inside the portal, two sliding doors, made of LED panels, traveled on rails to allow big props to be wheeled onto the stage. The stage floor was a 17x 38.5-meter all-black LED screen with a 4mm pixel pitch and a black acrylic diffuser top layer. The huge floor space concealed five individual lifts for surprise pop-ups to expand the stage in height.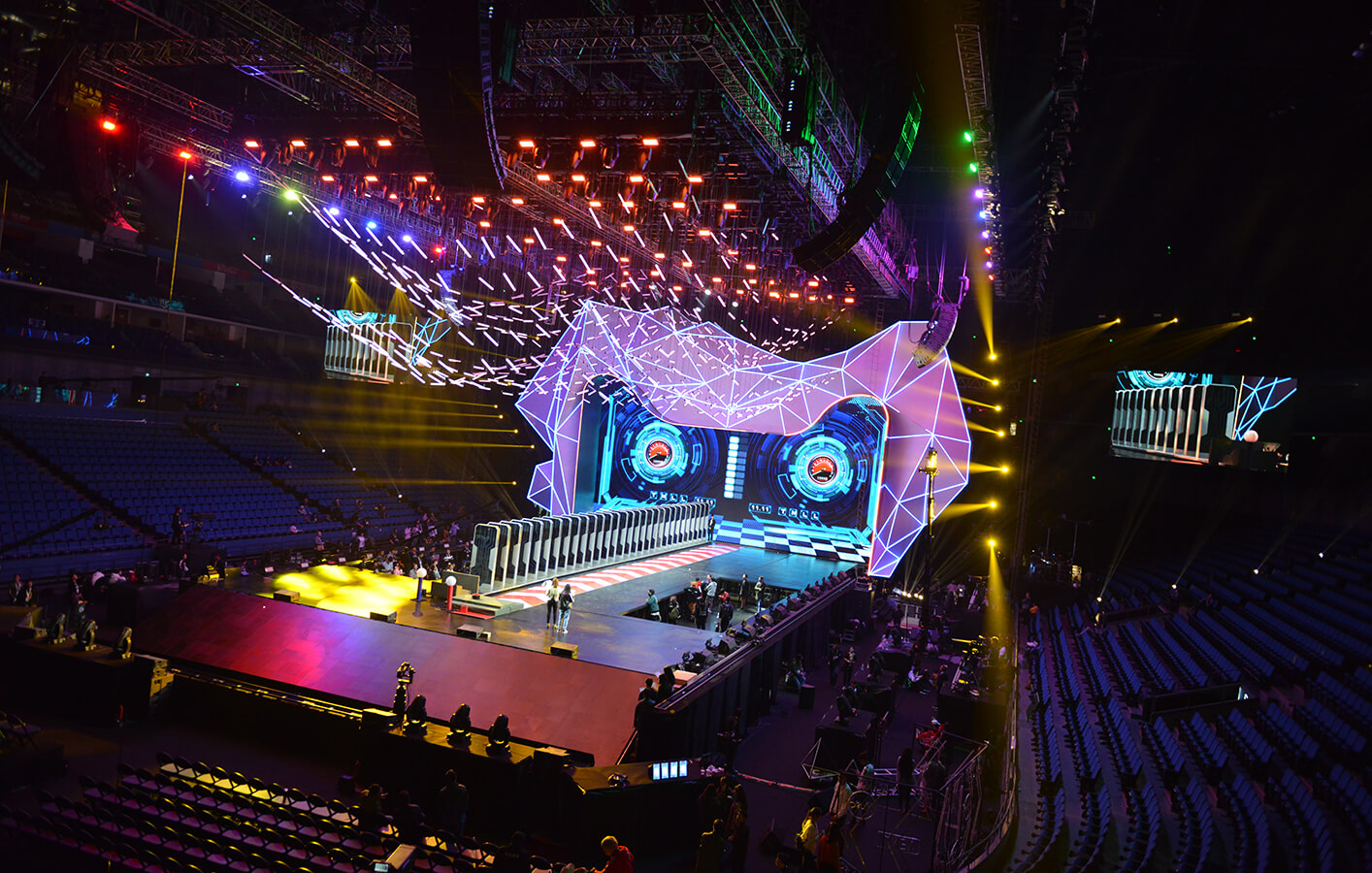 "A large number of screens were deployed on the stage, including the LED floor, the cat-head screen and two side PGM screens," says Michael Jia, Technical Director of the stage design. "The show included the world's most advanced entertainment technology – the integration of AR, motion tracking, projection, lighting and audio – to give the audience an unforgettable visual experience. disguise worked well with Notch, to render high res generative content that responded quickly to its environment, thanks to its powerful GPU workstation. It was an ideal video mapping solution for the integration of multi-dimensional projection, real-time motion tracking, lighting, audio and AR."
The cat-face projection surface and other inserts used two 4x4pros (one master, one backup) and eight Barco UDX-4K32 projectors while the LED stage floor deployed a master gx 1 and backup gx 2 system. Eighteen BlackTrax cameras were rigged around the stage to track props, cameras and performers.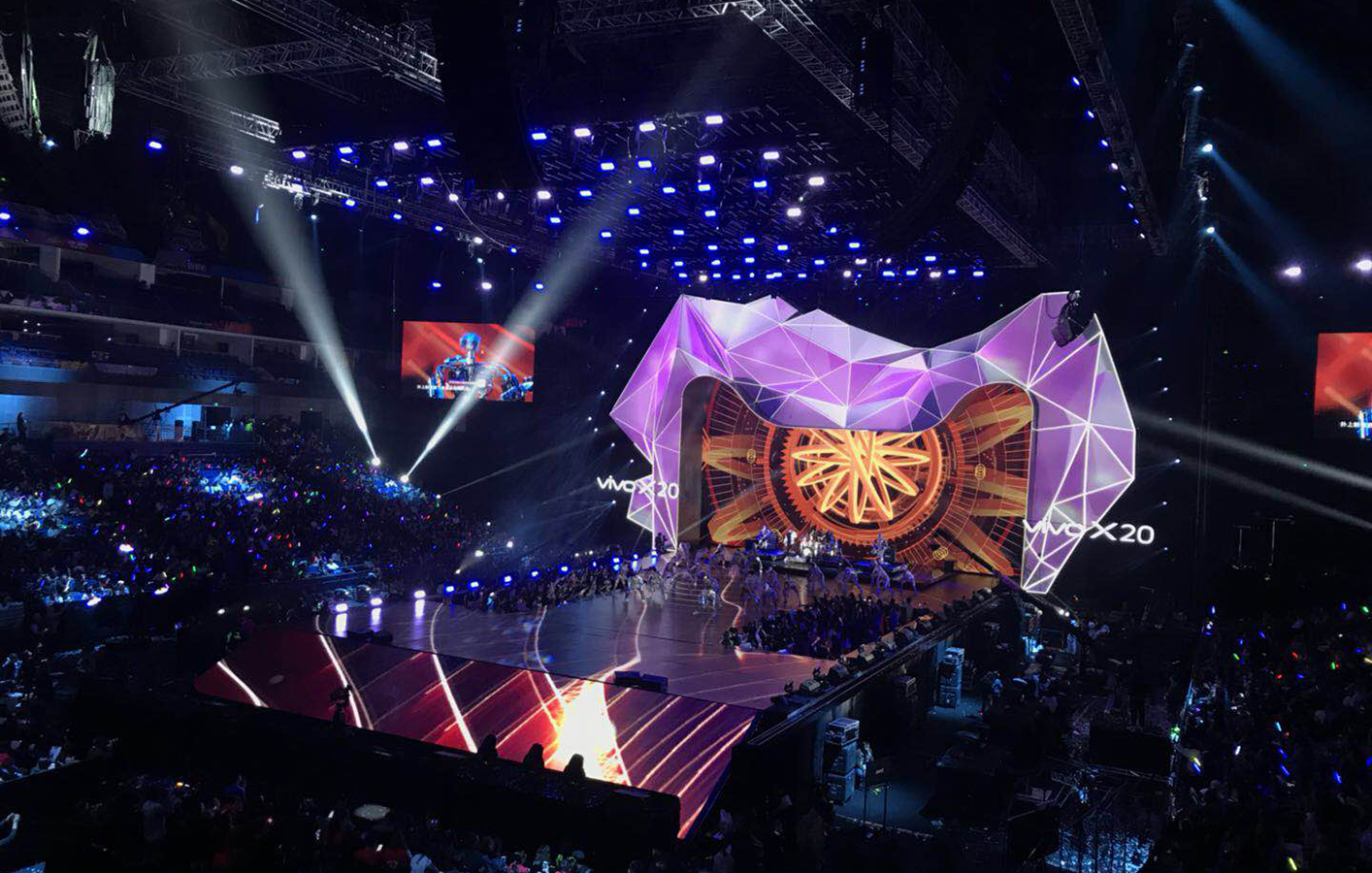 Redline Project Director, Shen Lei notes; "There was a number of firsts with this project, it was the first time we employed the gx range with the integration of BlackTrax and Notch. It was the first application in China using disguise to complete motion tracking and the interaction with AR. And it was the first time we executed and previs'd the real-time tracking of the camera positions in disguise's stage visualiser."
Michael Al-Far, Content Designer with Malfmedia, gives praise to many of the disguise features; "The set designers had a clear vision of how the proscenium should look and had commissioned custom content," he says. "But due to logistical issues the content couldn't arrive in time so Hans Cromheecke, System Integrator and Video Designer from AV Wizard, and I created some content on the spot. Thanks to disguise's clever versioning system and the real-time update feature, it was very easy to create the perfect look in no time. We used MIDI in/out to mix the virtual lighting, and provide a matching canvas of lighting and content for each section. The initial idea was to hand control over to the lighting team and have it be controlled from the grandMA desk with Art-net, but time restrictions made that impossible. So for five hours we mixed light and color balance by hand and disguise performed outstandingly."
Michael Al-Far adds that "QuickCal was very handy for the non-conventional projection alignment on the cat-head surface." In addition, using "Telnet to control a Notch camera in a virtual environment, in combination with BlackTrax on four cameras on stage, made for some dynamic content and perspective mapping with some very interesting results." He also praises the systems' previsualisation capabilities allowing for quick results for the many producers on the show, all of whom wanted to have their content integrated in the timeline at the same time. Both Hans and Hank Liu could program sections of the timeline simultaneously on multiple timelines, which turned out to be a huge timesaver for this complex logistical endeavor."
Despite the complexity of the show, disguise proved to be very intuitive so even the producers could trigger clips by themselves. Support from disguise was "as always, above and beyond," says Hans. "Running in full show mode, you should always keep your hands on the throttle so to speak. There were moments where we were running at  the maximum capacity cpu load and half-frequency speed, but the system never stopped or crashed, which is nothing less than what we expected."
Redline's CEO, Jack Sun, points out that the gala "is one of the highlights of the year in the Chinese market, therefore a lot of eyes are on the result. Redline spared no resources to ensure the best possible outcome. There were 62 acts in this show, all of which had a very different creative team with their own content designers, producers and directors. With over 300 million viewers at any time during the five-hour broadcast, the pressure was huge not to make a mistake. The whole Redline team performed outstandingly and with the help of Hans and both Michaels to overview the operation, we performed the task at hand perfectly."
Credits
Project Coordinator

Jack Sun 
disguise Operator and BlackTrax designer

Hank Liu
Technical Director

Michael Jia
Product specialist from BlackTrax

William McDaniel
Content creator

Michael Al-Far
System Integrator and Video Designer

Hans Cromheecke