news 2023 3 min read
"HIGH" indie film marks another successful proof-of-concept for disguise-powered virtual production
Virtual production techniques enabled Philadelphia-based filmmakers Tisha Robinson-Daly and Jonathan Mason to safely capture amazing shots in a proof-of-concept for their independent film, "HIGH," inspired by the true story of the death of a cellphone tower climber in 2014.
The project was designed to test the viability of virtual production for "HIGH."  The footage captured formed the basis of a four-minute teaser for the film featuring mesmerizing shots of workers harnessed to a cellphone tower high above the ground.
The filmmakers and their team, led by producers James J. Yi and Ben Baker of MESH, shot the tower scenes in the disguise & ROE Visual Virtual Production Accelerator in Chatsworth, California. The facility features an immersive stage comprised of ROE LED panels, running on the disguise virtual production workflow. It allowed the creatives to have control over virtual backgrounds built in Unreal Engine and on-set interactive lighting that showcased the intensity of the climbers' dangerous working conditions.
Robinson-Daly and Mason first turned to virtual production as invited participants in Tribeca and Epic Games' "Writing in Unreal" initiative, where they learned to use the Unreal Engine toolset to ideate and previsualise. For the "HIGH" proof of concept, they used Unreal to design sets, animate characters and simulate various camera angles at a fraction of the cost of traditional pre-production methods.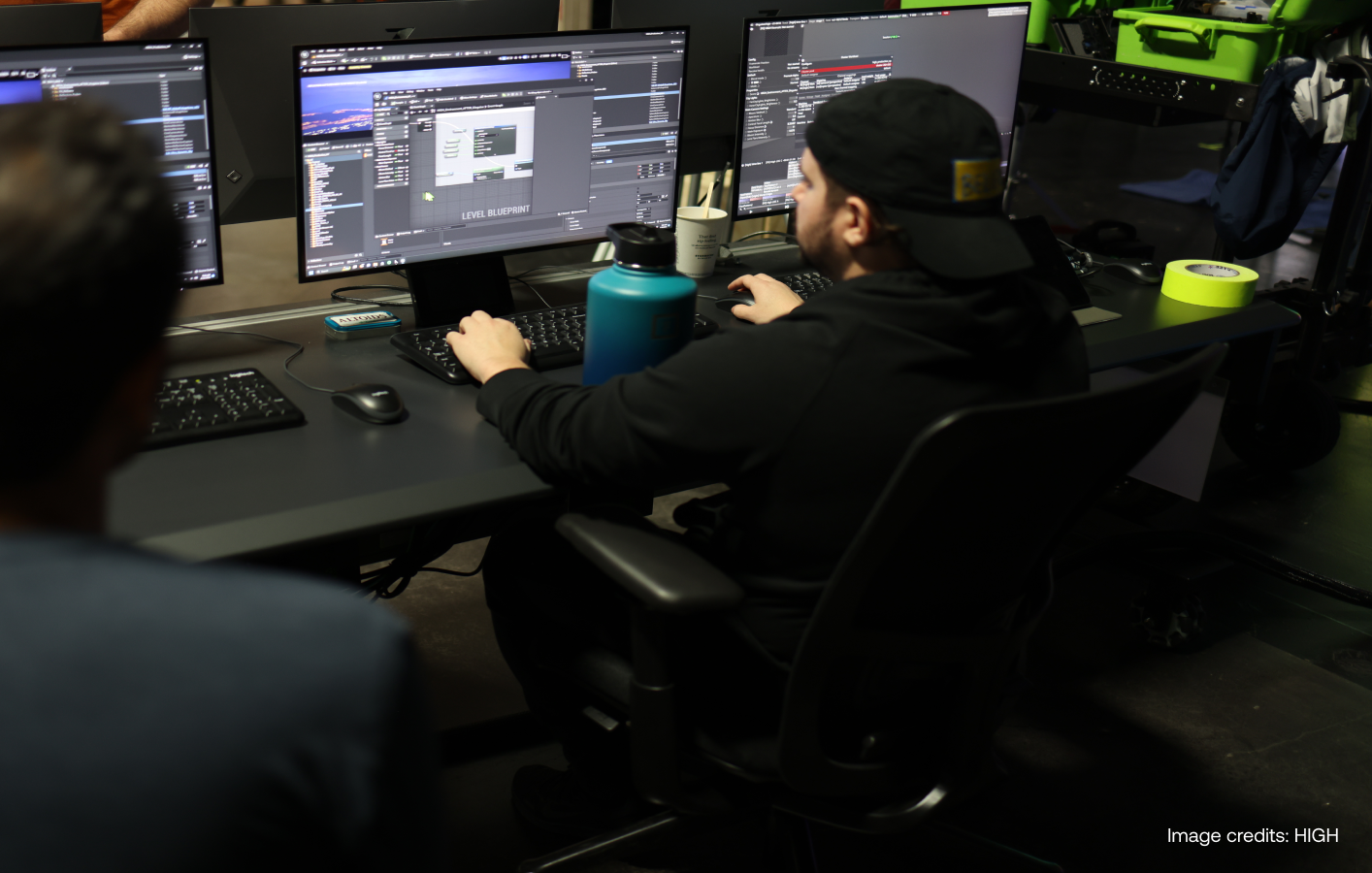 Later, shooting in the LED volume, virtual production allowed the filmmakers to create realistic parallax effects otherwise unavailable through traditional green screen and blend the virtual backgrounds with practical foreground tower sets.
"Stage work is always more controlled, but we had a first-day confidence and energy that felt new," say the filmmakers. "Because we were shooting on the Accelerator stage we had access to [disguise's] workflow expertise, which was key to calibrating the lenses, the screen, practical lighting levels and the colour profile we'd pre-determined."
The filmmakers enjoyed a very collaborative experience on set during two shoot days and a pre-shoot day.  "During the shoot, it was incredibly rewarding to see the disguise platform power the digital content seamlessly from shot to shot, take after take.  The absence of any technical difficulties made for a collaborative creative environment where the art of filmmaking was unfolding in real time," says Addy Ghani, Vice President of Virtual Production at disguise.
When you look at the monitor you can really see the actors are in this element, in this landscape and it transforms the way you perceive shooting a scene like this.  Now that I understand what the volume can offer, I see it not as a replacement for filmmaking but as another tool that can really enhance your filmmaking style.
James J. Yi, Producer
The two shoot days were extremely productive with day one spent constructing the tower top and capturing 12 shots with golden hour and night lighting and day two devoted to tower leg assembly and capturing 12 shots with overcast day, dusk and night lighting.
"We were very happy with the footage and, ultimately, can confidently say we achieved what we set out to do: demonstrate safe and repeatable ways of shooting tower scenes on a reasonable budget while retaining as much creative control as possible," the filmmakers report.
The proof-of-concept was featured at the 2023 Cannes Film Festival's Marché du Film/NEXT Global Summit on Virtual Production. 
As the experience of Robinson-Daly and Mason attests, the Accelerator Volume and disguise virtual production workflow serve as a safe, efficient and budget-friendly solution for filmmakers exploring new ways of storytelling.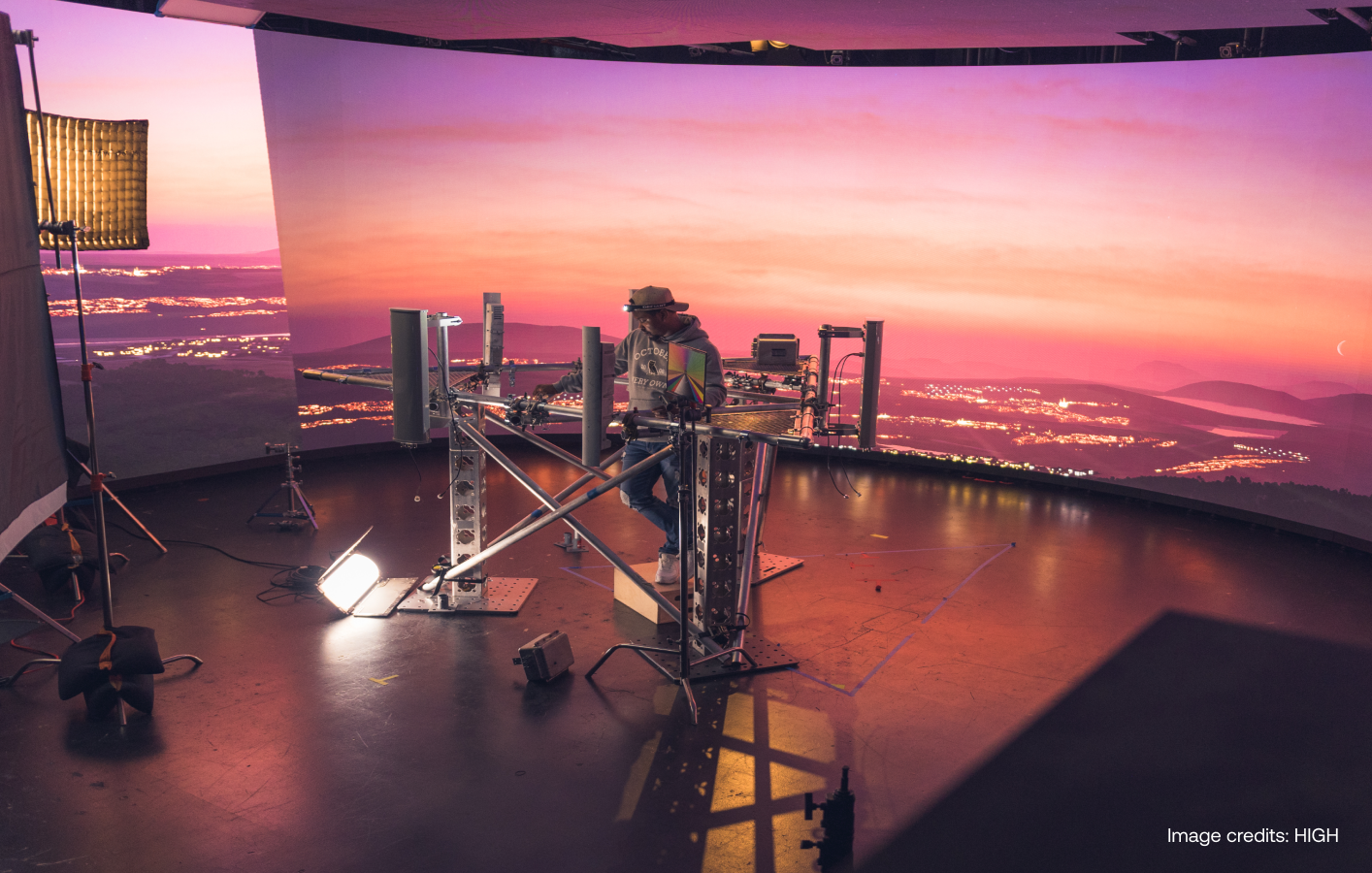 Learn more about the disguise virtual production workflow.

Join our next Virtual Production Accelerator cohort to get hands-on experience shooting in a volume.